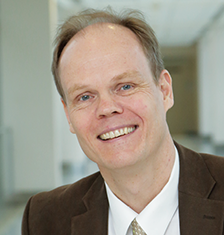 Tim F. Greten, M.D.
Senior Investigator
Thoracic and GI Malignancies Branch
NCI/CCR
Building 10, Room 2B38B Bethesda, MD 20892
240-760-6114
Research Topics
Dr. Greten combines his medical expertise in gastroenterology, hepatology and medical oncology with his research expertise in tumor immunology. His research can be best described by the three terms "liver", "cancer " and "immunology". Dr. Greten and his team try to better understand how tumors in the liver interact with the immune system and he utilized this knowledge to develop better treatment options for patients with tumors of the GI tract. Dr. Greten is an expert on immune suppressor mechanisms occurring in patients with liver cancer (and murine models of liver cancer). In his recent work published in Nature in Science he studied how liver disease and the gut microbiome control anti-tumor immunity in the liver. Dr. Greten is also principal investigator of a number of immunotherapy trials in patients with GI cancer and pioneered the combination of locoregional and immune checkpoint blockade in HCC. 
What's Next in Liver Cancer Research - Twitter Live
Biography
Tim F. Greten, M.D., received his medical training at Christian Albrechts University in Kiel, Germany in 1993.  He did his internship in Munich followed by a 3-year postdoctoral fellowship at the Johns Hopkins University (Baltimore, Maryland),  where he initiated his work in the field of tumor immunology. In 1999 Dr. Greten returned to Hannover Medical School, where he finished his training in Internal Medicine (2003), Medical Oncology (2004) and Gastroenterology (2007). He held an Associate Professor position in the Department of Gastroenterology, Hepatology and Endocrinology.  In February 2010 Dr. Greten joined CCR's Medical Oncology Branch as head of the Gastrointestinal Malignancy Section and was promoted as a tenured Senior Investigator in 2015 and Deputy Branch Chief in 2018. 
Dr. Greten has published more than 150 peer-reviewed papers on basic tumor immunology, translational research studies in hepatocellular carcinoma (HCC) as well as on clinical trials in different gastrointestinal malignancies, including HCC. Dr. Greten is co-chair of the Center of Excellence in Immunology, member of the Center for Advanced Preclinical Research oversight committee and the NCI Drug Development Collaborative, Co-Director of the NCI-CCR-Liver Cancer Program. and chairs the steering committee of the CCR Center for Cell-based Therapy.
Related Scientific Focus Areas
---
This page was last updated on October 24th, 2021