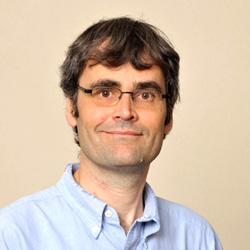 Thomas Bugge, Ph.D.
Senior Investigator
Oral and Pharyngeal Cancer Branch/Proteases and Tissue Remodeling Section
NIDCR
Building 30, Room 3A-308
30 Convent Drive
Bethesda, MD 20892
301-435-1840
Research Topics
Vertebrate genomes contain genes encoding hundreds of proteolytic enzymes that act on the cell surface to regulate all aspects of life, but when inappropriately regulated, they also play a critical role in the development and progression of numerous important human diseases. The aim of Dr. Bugge's Section is to understand the biochemistry, biology, and pathology of cell surface proteolysis, with particular emphasis on determining its contribution to the development, regeneration, and malignant transformation of oral tissues. The Section combines an assortment of sophisticated techniques to achieve this aim, including mouse molecular genetics, advanced imaging procedures, genomics, and state-of-the-art biochemistry. Current projects include: a) The study of membrane-anchored serine proteases in epithelial development, homeostasis, and malignant transformation b) use of protease-activated bacterial cytotoxins for the treatment of solid tumors c) defining the mechanisms and functions of intracellular turnover of collagen.
Major achievements of the section in recent years include the identification and characterization of novel membrane-anchored serine proteases, defining the molecular targets for transmembrane serine protease inhibitors, uncovering a cell surface serine protease cascade required for development of stratified epithelium, discovery of a role of membrane proteases in epithelial tight junction formation, revealing a principal role of urokinase binding to its receptor in suppressing fibrin-associated chronic inflammation, elucidation of protease-mediated tumor-initiating signaling pathways, development with Steve Leppla, NIAID, of protease-activated bacterial cytoxins for tumor treatment and protease imaging, and the identification and functional characterization of a receptor responsible for the cellular uptake and lysosomal degradation of collagen.
Biography
Thomas H. Bugge received his Ph.D. from the European Molecular Biology Laboratory and the University of Copenhagen, Denmark in 1993. He performed postdoctoral studies at Childrens' Hospital Research Foundation, Cincinnati, Ohio and University of Copenhagen from 1993-1995. Dr. Bugge was a research leader at The Finsen Laboratory, Copenhagen, Denmark from 1995–1996 and associate professor of pediatrics in the Division of Developmental Biology, University of Cincinnati from 1997-1999, before being appointed to his current position. His current research focuses on understanding the role of pericellular proteolysis in pathological and physiological tissue remodeling processes, with an emphasis on determining its contribution to the development, regeneration, and malignant transformation of oral tissues. He has published over 150 peer-reviewed articles, reviews, and book chapters on these topics. Dr. Bugge has organized and co-organized several scientific meetings, including Gordon Conferences, served on editorial boards of scientific journals and as a member of multiple national and international study sections and other scientific advisory committees. Service within NIDCR includes chairing the Institutional Animal Care and Use and Animal Program Director Search Committee, and memberships on the Gene Targeting Facility Oversight, Animal Care Facility Oversight, and Promotion and Tenure Committees. NIH service includes membership on the Animal Research Advisory, NIH Investigative, Earl Stadtman Search's Cell Biology/Cell Signalling Committees, and ad hoc review for the NIH Central Tenure Committee.
Mentoring is an important aspect of Dr. Bugge's work. He has supervised and mentored numerous post-baccalaureate and graduate students, research fellows, and tenure-track investigators, many of whom are now playing leadership roles at institutions in the U.S. and abroad. Dr. Bugge has received several NIH and international awards for his research, mentoring, and service to the scientific community, including the International Society for Fibrinolysis and Proteolysis Prize 2012 for "Outstanding Contributions to the Field of Fibrinolysis, Thrombolysis and Proteolysis."
Related Scientific Focus Areas

---
This page was last updated on August 8th, 2018