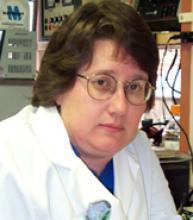 Suzette Alise Priola, Ph.D.
Senior Investigator
TSE / Prion Molecular Biology Section
NIAID/DIR
Research Topics
Research in this laboratory focuses on the molecular basis of disease in transmissible spongiform encephalopathy (TSE) diseases. TSEs are a group of neurodegenerative diseases that include sporadic and familial Creutzfeldt-Jakob disease (CJD) in humans: scrapie in sheep; chronic wasting disease (CWD) in deer, elk, and moose; and bovine spongiform encephalopathy (BSE) in cattle.
The conversion of the normally soluble and protease-sensitive host prion protein, PrP-sen, to an insoluble and partially protease-resistant form, PrP-res, is a key event in TSE pathogenesis and PrP is necessary for disease to occur. Using both in vitro and in vivo model systems, our laboratory studies the role of PrP-sen and PrP-res in several aspects of TSE pathogenesis, including: 1) the molecular pathogenesis of TSE species barriers and strains; 2) the mechanism of formation of amyloid and non-amyloid forms of PrP-res, especially with regard to familial TSE diseases; 3) the establishment of acute versus chronic TSE infection; and 4) the development of TSE vaccines and therapeutics.
Biography
Dr. Priola received her Ph.D. in microbiology and immunology in 1990 from the University of California, Los Angeles. In 1991, she joined the Rocky Mountain Laboratories where she is now a senior investigator. She is a former chair of the FDA TSE Advisory Committee and is currently chief of the TSE/Prion Molecular Biology Section. She currently serves on the editorial board of the journal Virology.
Related Scientific Focus Areas
This page was last updated on Saturday, August 19, 2023