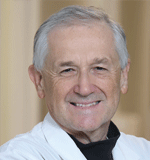 Steven Z. Pavletic, M.D., Ph.D.
Senior Clinician
Immune Deficiency Cellular Therapy Program
NCI/CCR
Research Topics
NIH Chronic GVHD Study Group
The primary focus of this study group is chronic graft-versus-host disease (cGVHD), the most serious late complication after allogeneic hematopoietic stem cell transplantation (HSCT). Chronic GVHD is an alloimmune and autoimmune disorder characterized by protean clinical manifestations, immunosuppression, immune dysregulation, decreased organ function, disability and decreased survival of patients. Little progress has been made in preventing or treating this devastating late effect in survivors of cancer therapy. To address these challenges, we initiated a program that mobilizes the unique strengths of the NIH intramural research program and, ultimately, will develop more effective and safer therapies for cGVHD. Our aims include:
Using the multidisciplinary, inter-institute cGVHD clinical program at the NIH for in-depth study of the spectrum of clinical phenotypes of this disease, including rare and severe cases, and to develop better cGVHD evaluation tools.
Studying cGVHD biology, in a collaborative effort, as a platform for investigating biologically-based clinical classifications and identifying potential new biomarkers or points for therapeutic intervention.
Developing new systemic or organ-specific cGVHD treatments and drug development pathways.
Conducting national and international collaborations to promote advancements in cGVHD research and patient care.
Over the years, the NIH cGVHD Study Group has made substantial contributions to the world literature, providing the first descriptions of specific, rare and the most severe manifestations or medical complications of this disease. Biology studies have included peripheral blood and target tissue research biopsies (skin, oral mucosa), a unique characteristic of this program. A natural history study enrolled more than 500 well-characterized cGVHD patients. This years-long effort resulted in the first FDA approval (August 2017) of an agent with an indication for cGVHD. This study used the response criteria developed here at NIH as the primary endpoint. As a result, new studies aiming at FDA approval are now in progress.
Our ongoing strategy focuses on expanding multi-center clinical trial collaborations to develop reliable biomarkers and novel therapies for cGVHD. Future studies will focus on using high-sensitivity assays to develop cytokine biomarkers and genomic techniques to determine biological patterns and clinical phenotypes of the disease.
Recently, three in-house prospective therapy studies were completed: 1) Prevention of cGVHD (unrelated donor transplant protocol) in a phase 1 study using dose escalation of palifermin; 2) Treatment of steroid refractory cGVHD with pomalidomide; 3) Treatment of refractory oral cGVHD with clobetasol rinses. Ongoing protocols address novel pathways and strategies including BTK, JAK 1/2, ROCK2 and NE inhibitors. The goal of all these studies is to develop new, safer, molecularly targeted therapies that will allow us to depart from using toxic drugs, such as steroids or calcineurin inhibitors, allow more specific interference in the disease process and develop better treatments. This approach also allows the entry of new pharmacological immunomodulators in clinical allogeneic transplantation in general by defining initial safety, pharmacokinetics, pharmacodynamics and dosing properties. The NIH 2020 (3rd) Chronic GVHD Consensus Conference will address these challenges and set the path for research over next 3-7 years. The NIH 2020 Chronic GVHD Consensus Conference will be held virtually November 18-20, 2020.
NIH Myeloid Malignancies Program
The NIH Myeloid Malignancies Program (MMP) is developing a comprehensive program aimed at understanding, diagnosing and treating the heterogeneous collection of myeloid malignancies that arise in children and adults, especially the myelodysplastic syndromes (MDS) and secondary or therapy-related acute myelogenous leukemia (AML). The goal is to successfully control, cure or prevent MDS and AML. We are establishing a clinical research program at the NIH Clinical Center in Bethesda, Maryland, to allow rapid translation of laboratory science towards the development of novel therapies for patients with MDS and AML.
MDS is characterized by ineffective hematopoiesis, marrow dysplasia, peripheral blood cytopenia, and a high propensity for transformation into AML. Although several agents that induce partial remissions and prolong survival in MDS patients have been identified, the only curative therapy for MDS is HSCT. Most patients are ineligible for HSCT due to advanced age, progressive disease or comorbidities. There is also a small but increasingly recognized group of secondary MDS/AML that arises from inherited genetic diseases (such as GATA2 deficiency or RUNX1 mutations) and evolves into an aggressive leukemia, often in young adulthood, for which pathogenesis and natural histories are poorly understood. A consequence of genotoxic therapy for a primary malignancy is therapy-related MDS/AML, which develops in a fraction of individuals who were cured of their original cancer, harbor high-risk mutations and typically are not chemo-sensitive. These entities have been studied in NIH research laboratories, but the results have not been translated to the clinic yet. Recent advances in cancer sequencing, immunotherapy, proteomics, and medicinal chemistry have created a unique opportunity to leverage the basic and clinical expertise of CCR and other NIH investigators to develop synergistic therapeutic approaches for MDS/AML in children and adults.
Biography
Dr. Pavletic received his M.D. from the University of Zagreb School of Medicine in Croatia in 1979. In 1992, he completed a clinical fellowship in bone marrow transplantation at the Fred Hutchinson Cancer Research Center and University of Washington Medical School in Seattle, WA. In 1995, he completed his internal medicine residency at the University of Nebraska Medical Center (UNMC) in Omaha, NE, and completed his hematology and oncology fellowship in June 1997. Until October 2002, Dr. Pavletic served as the Director of the Allogeneic Stem Cell Transplantation Program at UNMC. In 2002, Dr. Pavletic received an appointment at the National Cancer Institute (NCI) and an adjunct appointment at the National Institute for Arthritis and Musculoskeletal and Skin Diseases at NIH. Currently, he is the Head of the Graft-versus-Host Disease and Late Effects Section in the Immune Deficiency Cellular Therapy Program. In October 2006, Dr. Pavletic received the NCI Director's award for his achievements in developing national and international consensus guidelines for clinical trials in chronic GVHD. He directs the intramural NIH chronic GVHD study group.
Related Scientific Focus Areas
This page was last updated on Friday, October 27, 2023