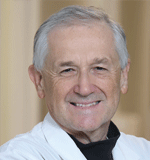 Steven Z. Pavletic, M.D., M.S.
Senior Clinician
Immune Deficiency Cellular Therapy Program
NCI/CCR
Building 10 - Hatfield CRC, Room 4-3130
Bethesda, MD 20892-1203
240-760-6174
Biography
Dr. Pavletic received his M.D. from the University of Zagreb School of Medicine in Croatia in 1979. In 1992, he completed a clinical fellowship in bone marrow transplantation at the Fred Hutchinson Cancer Research Center and University of Washington Medical School in Seattle, WA. In 1995, he completed his internal medicine residency at the University of Nebraska Medical Center (UNMC) in Omaha, NE, and completed his hematology and oncology fellowship in June 1997. Until October 2002, Dr. Pavletic served as the Director of the Allogeneic Stem Cell Transplantation Program at UNMC. In 2002, Dr. Pavletic received an appointment at the National Cancer Institute (NCI) and an adjunct appointment at the National Institute for Arthritis and Musculoskeletal and Skin Diseases at NIH. Currently, he is the Head of the Graft-versus-Host Disease and Late Effects Section in the Immune Deficiency Cellular Therapy Program. In October 2006, Dr. Pavletic received the NCI Director's award for his achievements in developing national and international consensus guidelines for clinical trials in chronic GVHD. He directs the intramural NIH chronic GVHD study group.
Related Scientific Focus Areas
---
This page was last updated on January 16th, 2020