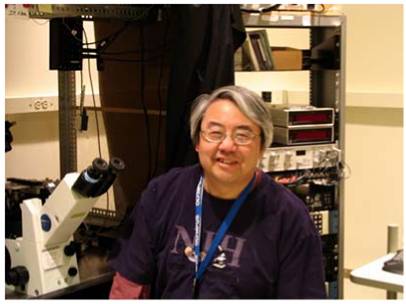 Stephen Ikeda, M.D., Ph.D.
Scientist Emeritus
Laboratory of Molecular Physiology; Section on Transmitter Signaling
NIAAA
Research Topics
The Section on Transmitter Signaling focuses primarily on determining the molecular mechanisms underlying G-protein coupled receptor (GPCR) modulation of voltage-gated Ca2+ channels in neuronal systems using electrophysiological, optical, molecular, and biochemical techniques. A consequence of modulation, which usually manifests as a decrease in current flow through the channel, neuronal excitability and neurotransmitter release at synapses is modified. Although several signaling pathways have been identified, the best-studied is a direct inhibition of the ion channel by G-protein __-subunits liberated from the G-protein heterotrimer following agonist-mediated receptor activation. This canonical pathway is shared among the high-voltage activated Ca2+ channels of the CaV2.x family (CaV2.1–2.3; P/Q-, N-, and R-type, respectively) and represents one of the most widely studied and best understood mechanism of presynaptic inhibition. GPCRs (e.g., CB1, CRF, mGluR, NPY, and nociceptin) comprise major cellular targets for pharmaceuticals used in the treatment of alcoholism and other addictive disorders. A second Ca2+ channel modulatory pathway involves a family of small G-proteins termed RGK proteins. A current focus is determining what roles the RGK protein Rem2 plays in Ca2+ channel physiology and synaptic transmission.
Biography
Stephen R. Ikeda received his B.S. in Chemistry and Zoology from the George Washington University. He received his M.D. and Ph.D. from the University of Maryland School of Medicine in 1980 and 1983, respectively, where he worked under the direction of Dr. Edson X. Albuquerque on the pharmacology of neuromuscular transmission. Dr. Ikeda did postdoctoral work at the NIH in the laboratory of Dr. Forrest F. Weight in the NIAAA. Work during this time focused on the biophysical properties and modulation of neuronal voltage-gated ion channels. Following postdoctoral training, he joined the Department of Pharmacology and Toxicology at the Medical College of Georgia (now Georgia Regents University), Augusta, GA, advancing to the rank of tenured Associate Professor before joining the Guthrie Research Institute in Sayre, PA as a Senior Scientist and Director of the Laboratory of Molecular Physiology. At Guthrie, Dr. Ikeda also served as Director of the Guthrie cDNA Resource Center and held an adjunct appointment as Research Professor of Pharmacology, SUNY Upstate Medical Center, Syracuse, New York. He returned to the NIAAA in 2002 as a Senior Investigator and Chief of the Laboratory of Molecular Physiology. Dr. Ikeda's current research focuses on the molecular mechanisms underlying signaling pathways linking G-protein coupled receptors to neuronal voltage-gated ion channels.
Related Scientific Focus Areas
This page was last updated on Thursday, July 20, 2017