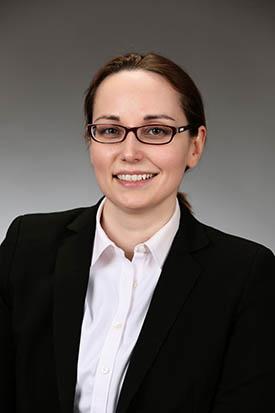 Sonja W. Scholz, M.D., Ph.D.
Lasker Clinical Research Scholar
Neurodegenerative Diseases Research Unit
NINDS
Building 35, Room 1A-1000
35 Convent Drive
Bethesda, MD 20892-3707
301-435-7606
Research Topics
Advances in genomic technologies have provided us with unprecedented capabilities to explore heritable factors involved in the development of neurological diseases. Neurogenetics has already revolutionized how we think about common neurodegenerative diseases, such as Alzheimer dementia and Parkinson disease.
We will now extend these powerful genomic techniques to other neurodegenerative diseases, such as Lewy body dementia, multiple system atrophy, frontotemporal dementia, progressive supranuclear palsy and corticobasal degeneration. A new laboratory has been established to achieve this aim, under the leadership of Dr. Sonja Scholz. This Neurodegenerative Diseases Research Unit is integrated within the Laboratory of Neurogenetics, a leader in this field over the last decade. Its primary mission is to unravel molecular genetic mechanisms that cause these devastating diseases. This knowledge identifies targets for drug development. To maximize our impact, we will build on our national and international collaborations, and we will leverage the unique resources within the Intramural Research Program at the NIH.
As part of this effort, we have established an atypical parkinsonism clinic at the NIH Clinical Center to study the natural history and molecular characteristics of patients suffering from these devastating conditions.
Biography
Dr. Scholz is a Neurologist and Neurogeneticist specialized in movement disorders. Shereceived her medical degree from the Medical University Innsbruck, Austria. Following graduation, she was a post-doctoral fellow at the Laboratory of Neurogenetics (NIA) under the supervision of Drs. Andrew Singleton and John Hardy. She obtained a Ph.D. in Neurogenomics from the University College London, UK in 2010. She then moved to Baltimore to complete her neurology residency training at Johns Hopkins. In 2015, Dr. Scholz received the McFarland Transition to Independence Award for Neurologist-Scientists.She is an Assistant Clinical Investigator within the Neurogenetics Branch (NINDS). Her laboratory focuses on identifying genetic causes of neurodegenerative diseases, such as dementia with Lewy bodies, multiple system atrophy, and frontotemporal dementia.
Related Scientific Focus Areas
---
This page was last updated on August 9th, 2021