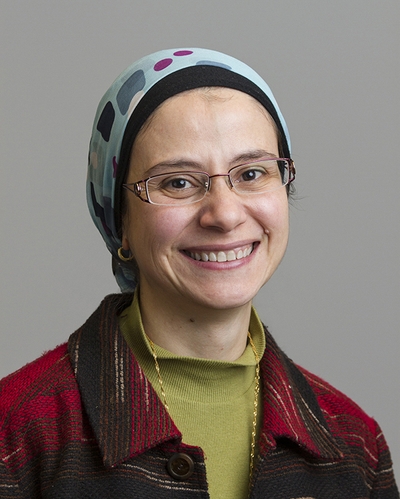 Shahinaz Gadalla, Ph.D., M.B.Bch.
Stadtman Investigator
Clinical Genetics Branch
NCI/DCEG
9609 Medical Center Drive
Room SG/6E534
Rockville, MD 20850
240-276-7254
Research Topics
Cancer Predisposition in Patients with Myotonic Dystrophy
Myotonic Dystrophy (DM) is an inherited disorder that represents the most common type of adult onset muscular dystrophy group of diseases. In 2011, Dr. Gadalla and colleagues were the first to report epidemiological evidence of excess cancer risk in DM patients. Dr. Gadalla analyzed data from population registries in Sweden and Denmark and observed a high risk of endometrial, ovarian, brain and colon cancer among DM patients. This work identified DM as a new cancer susceptibility syndrome. Dr. Gadalla plans to build on this work, and her future research in this area aims at understanding the cancer risk factors and the molecular mechanisms behind this observation.
Telomere Biology and Human Diseases  
Telomeres are specialized structures at the ends of chromosomes that are essential for maintaining chromosomal integrity. Germline mutations in telomere biology genes cause diverse phenotypes including classic dyskeratosis congenita, aplastic anemia, acute myeloid leukemia, and others. Dr. Gadalla is interested in elucidating factors that contribute to this phenotypic variation. In addition, she is leading studies to understand how telomere length may contribute to transplant outcomes in patients who receive hematopoietic stem cell transplantation for aplastic anemia. Her future work in this area will focus on the role of telomere dysfunction in cancer risk following transplantation.
Biography
Dr. Shahinaz Gadalla earned her medical degree from Ain Shams University School of Medicine in Cairo, Egypt, and an M.S. and a Ph.D. in epidemiology from the University of Maryland, Baltimore. She joined the Clinical Genetics Branch within the NCI Division of Cancer Epidemiology and Genetics as a Cancer Prevention Fellow in 2008, and was promoted to a Staff Scientist in 2011. In 2014, she was appointed as an Earl Stadtman Tenure-Track Investigator. Dr. Gadalla's research interests focus on the role of genetic factors in cancer etiology, as well as identifying genetic and environmental risk factors among individuals at high risk of developing cancer. She has received numerous awards for her work, including a Fellows' Intramural Research Award and an NCI Director's Intramural Innovation Award.
Related Scientific Focus Areas
---
This page was last updated on October 10th, 2019