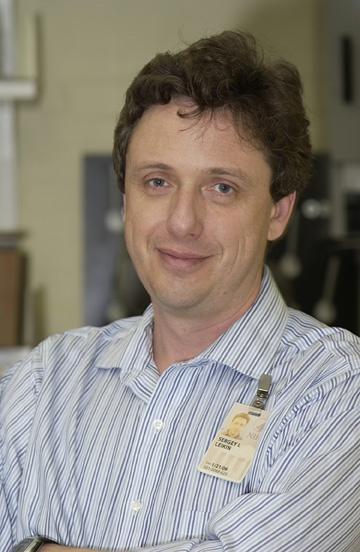 Sergey L. Leikin, Ph.D.
Senior Investigator
Section on Physical Biochemistry
NICHD/DIR
NIHBC 10 - Clinical Center 8N240D
20892
301-594-8314
Research Topics
The extracellular matrix (ECM) is involved in a wide variety of disorders, ranging from rare genetic abnormalities of skeletal development to such common ailments as osteoporosis, fibrosis, and cancer. Our interest in ECM biology began with studies on basic principles relating the structure of collagen and DNA to their interactions and biological function. Over the years, the focus of our research shifted to collagens, which are the most abundant ECM molecules, and then to ECM disorders and the development of novel treatments for these disorders. We gradually phased out DNA studies and concentrated on ECM pathology in cancer, fibrosis, osteogenesis imperfecta (OI), Ehlers-Danlos syndrome (EDS), chondrodysplasias, osteoporosis, and other diseases. We utilize diverse approaches of molecular and cell biology, physics, chemistry, and biochemistry to investigate how mutations affect collagen folding, trafficking, processing, intracellular degradation, secretion, and ECM function. We are also developing new imaging approaches and methods for these studies, e.g., high definition infrared and Raman technologies. Our goal is to understand molecular mechanisms and treatment targets in ECM disorders and bring this knowledge to clinical research and practice.
Biography
Dr. Sergey Leikin obtained his M.S. in Physics in 1984 under Prof. Abrikosov, a 2003 Nobel Laureate in Physics, from the Moscow Steel and Alloys Institute, Russia. He received his Ph.D. in Biophysics in 1987 from the Moscow State University, Russia and completed his postdoctoral training with Dr. Adrian Parsegian in 1992, at the Division of Computer Research and Technology (DCRT), NIH, in which he remained as a tenure-track investigator. His lab moved from DCRT to NICHD in 1997. He has headed the Section on Physical Biochemistry since 2002.
Related Scientific Focus Areas
---
This page was last updated on November 6th, 2020