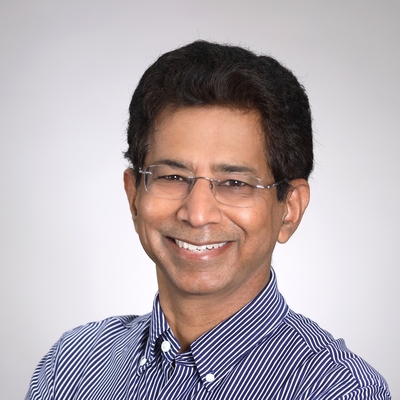 Senthil K. Muthuswamy, Ph.D.
Senior Investigator
Laboratory of Cancer Biology and Genetics
NCI/CCR
Research Topics
Research from our laboratory was among the first to employ three-dimensional cell culture (organoids) to bridge the gap between growing cells as a flat monolayer and tumors growing in vivo. We take a "microscope-to-stethoscope" approach that combines basic cell biology with co-clinical studies that help tailor treatment for cancer patients. Organoids are mini-tumors that can be grown in the lab while also replicating the complexity of tissues in the body. We use patient tumor organoids for personalizing cancer treatment, investigating metastatic cancer progression, understanding how cell polarity proteins regulate development of drug resistance; developing new immune-oncology treatments; and identifying new biomarkers.
Tumor Organoid Cultures and Personalized Medicine
In 2001, we developed a 3-D culture platform to grow a human breast epithelial cell line, MCF-10A, as polarized acinar structures and used it to investigate how 3-D cell architecture impacts transformation by the oncogene HER2/ErbB2. These studies led to the development of conditions to grow patient tumors as organoid cultures. Using the pancreatic cancer patient tumor-derived organoids models, we demonstrated that the tumor organoids are a clinically relevant research platform because they are highly effective in modeling in vivo and clinical drug responses. In our ongoing research program we continue to develop organoid platforms for multiple types of cancer and aim to use them to personalize treatment for patients, for understanding the basis for patient-to-patient difference in response to drugs, and mechanisms regulating drug resistance, metastasis, and histomorphology.
Cell Polarity Proteins and Drug Resistance
We and others reported that cell polarity proteins function as tumor suppressors in mammals. However, recent studies from our laboratory have challenged this notion by demonstrating that cell polarity proteins such as LLGL2, Pard6b, and Scribble can promote cancer cell growth and therapy resistance by regulating cellular metabolism and trafficking of cell surface proteins. Consistent with our findings, many cell polarity proteins are overexpressed or amplified in cancer, highlighting a new opportunity for investigating how cell polarity proteins regulate changes in cellular metabolome, cell surface proteome, and signal transduction pathways. Such changes may also promote metastatic cancer progression and resistance to treatments, including immunotherapy.
Tumor Organoids and Immuno-oncology
Lastly, we have developed a method to co-culture tumor organoids with autologous peripheral blood-derived T cells. This method functions as an empirical platform for a dramatic (1000–100,000 fold) clonal expansion of cytotoxic T cells activated by antigens presented on the tumor cell surface. The organoid-primed cytotoxic T cells (opT cells) generated from co-culture create an opportunity to identify tumor-selective cytotoxic cells and T-cell receptors for use in immune-therapy applications for cancers including breast, pancreas and head and neck.
Biography
Senthil K. Muthuswamy, Ph.D., received his Ph.D. from McMaster University, Canada, and did his postdoctoral fellowship with Joan Brugge at Harvard Medical School. In 2001, he began his independent faculty position at Cold Spring Harbor Laboratory in New York and subsequently moved to Princess Margaret Cancer Centre in Toronto. In 2015, he joined the Department of Medicine and Cancer Center at Beth Israel Deaconess Medical Center at Harvard Medical School, where he served as the Director of the Cell Biology Program.
Dr. Muthuswamy is a recipient of the Rita Allen Scholar Award, V Foundation Scholar Award, U.S. Army Era of Hope Scholar Award, Lee K. and Margaret Lau Chair in Breast Cancer Research, and the Canadian Society of Biochemistry and Molecular & Cellular Biology Young Scientist Award for research achievements.
Related Scientific Focus Areas
This page was last updated on Thursday, October 26, 2023