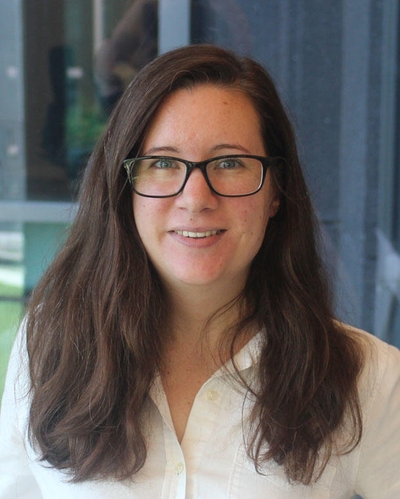 Sarah S. Jackson, Ph.D., M.P.H.
Stadtman Investigator
Infections and Immunoepidemiology Branch
NCI/DCEG
Research Topics
Dr. Sarah Jackson's research seeks to understand how the mechanisms by which differences in both sex and gender identity impact cancer risk and outcomes. Specifically, her research addresses two important questions: 1) How do cancer risk factors, incidence, and outcomes among transgender and gender diverse adults differ from cisgender adults, and 2) How do sex differences (hormones, chromosomes, etc.) influence cancer risk and survival?
Cancer Among Transgender and Gender Diverse Individuals
Worldwide approximately 1% of adults identify as transgender or gender-diverse (TGD), individuals whose gender identity differs from their sex assigned at birth. Cancer is an understudied disease in the TGD population due to the paucity of available data, as gender identity is not collected in most countries' census, cancer registries, or population-based cohort studies. Due to social stigma and marginalization, TGD persons may be at higher risk of and have increased mortality due to certain cancers compared to cisgender persons related to an increased prevalence of infections like HIV and human papillomavirus (HPV). TGD persons may also be at higher risk of cancers related to obesity, alcohol use, and smoking. Discrimination in healthcare settings may also prevent TGD persons from obtaining preventative services, such as cancer screening, leading to increased cancer disparities in this population.
Dr. Jackson is leading a population-based cohort study of TGD persons in the United Kingdom using primary care data to describe mortality, cancer screening, cancer risk factors, and cancer incidence in the population. She is also leading a pilot study examining the feasibility and acceptability of using self-collected samples for HPV testing in the clinic and at home among TGD people in England. This study will provide important data on prevalence of HPV in trans men and trans women and lead to future studies the utility of using self-collected samples to reach this under screened population.
Sexual Orientation and Gender Identity Data Collection
The lack of sexual orientation and gender identity (SOGI) data collection in the U.S. hinders much of the research into lesbian, gay, bisexual, transgender, and queer (LGBTQ) populations. Dr. Jackson initiated a Sexual and Gender Minority (SGM) Interest Group within the NCI Cohort Consortium to develop and test SOGI measures to advocate for the inclusion of SOGI in existing cohorts and to assist consortium investigators with the development of these measures.
Sex Differences in Cancer Incidence and Survival
Sex and gender differences are especially stark in cancer incidence and survival where men have at least a 2–3 times higher risk than women of developing and dying from most non-reproductive cancers. Historically, this male predominance has been attributed to increased risk-taking behaviors among men contrasted with the health seeking behaviors of women. However, a growing body of research has found that differences in hormones, chromosomes, and gene expression between males and females affect immune response to infections and cancer. Dr. Jackson's research seeks to understand the relative contributions of these factors in the sex differences in non-reproductive cancer incidence and survival.
Read Dr. Jackson's comments in the article "Men and Cancer", appearing in Cancer Today, a publication of the American Association for Cancer Research®.
Biography
Dr. Jackson earned an M.P.H. in epidemiology in 2008 from the George Washington University, Washington, DC, and a Ph.D. in epidemiology in 2018 from the University of Maryland, Baltimore. She joined DCEG as a postdoctoral fellow in 2018 and in 2021, she was inducted into the NIH Independent Research Scholar Program and promoted to research fellow. She was selected as an Earl Stadtman tenure-track investigator in the Infections and Immunoepidemiology Branch (IIB) and an NIH Distinguished Scholar in 2023.
Dr. Jackson has received numerous awards for her work, including the Sallie Rosen Kaplan Fellowship for Women Scientists in Cancer Research, NIH Fellows Award for Research Excellence, the NCI Director's Intramural Innovation Award, William G. Coleman Jr. Ph.D., Minority Health and Health Disparities Research Innovation Award, and the DCEG Intramural Research Award.
Related Scientific Focus Areas
This page was last updated on Tuesday, August 15, 2023