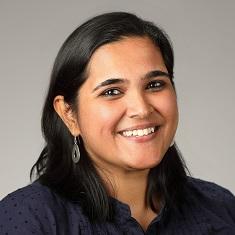 Ramya Ramaswami, M.B.B.S., M.P.H.
Lasker Clinical Research Scholar
HIV and AIDS Malignancy Branch
NCI/CCR
Research Topics
Dr. Ramaswami is a medical oncologist in the HIV/AIDS Malignancy Branch (HAMB). She leads the natural history and treatment study of patients with KSHV-associated multicentric Castleman disease (KSHV-MCD) within the NCI, which includes the largest group of patients treated for this condition within the United States. Clinical and laboratory data from this study will help inform new ways to diagnose and treat this rare and life-threatening condition.
Patients with Kaposi sarcoma herpesvirus (KSHV) and HIV often present with more than one malignancy, which may lead to significant morbidity and mortality. Dr. Ramaswami collaborates with her laboratory and clinical colleagues to determine key immunologic, genomic and clinical parameters that distinguish between these conditions, with an aim to improve patient outcomes.
Biography
Dr. Ramaswami received her medical degree from Imperial College London and a Masters in Public Health from Columbia University, Mailman School of Public Health. She completed her medical and oncology training within the National Health Services of the United Kingdom. During her oncology fellowship, she worked with the National Centre for HIV Malignancy at Chelsea and Westminster Hospital in London, which is Europe's largest research and treatment institute for HIV-associated cancers.
Dr. Ramaswami was an editorial fellow at the New England Journal of Medicine between 2016-2017. She is a member of the Royal College of Physicians (MRCP(UK)) and has completed her specialty training examinations in medical oncology (SCE).
Formerly a Physician-Scientist Early Investigator in the HIV and AIDS Malignancy Branch, Dr. Ramaswami became a Lasker Clinical Research Scholar in 2023. She is also an NIH Distinguished Investigator.
Related Scientific Focus Areas
This page was last updated on Monday, October 30, 2023