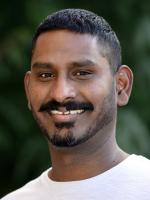 Raja Jothi, Ph.D.
Senior Investigator
Epigenetics & Stem Cell Biology Laboratory / Systems Biology Group
NIEHS
Research Topics
Identification of gene networks and signaling pathways associated with specific biological phenotypes is an essential step toward understanding the molecular basis of development and pathogenesis. Research in our laboratory is focused on transcriptional and epigenetic control of cell fate decisions. Using integrative interdisciplinary approaches, such as merging bioinformatics, functional genomics, and molecular biology, we reconstruct and characterize gene regulatory networks and epigenomes that underline cell states during development, differentiation, and homeostasis.
Biography
Dr. Jothi received his Bachelor's degree from the University of Madras in 1998, and his Ph.D. from the University of Texas at Dallas in 2004. Following postdoctoral training in Systems Biology and Epigenetics at the National Center for Biotechnology Information and the National Heart, Lung, and Blood Institute, respectively, he was recruited to NIEHS in 2009 and promoted to Senior Investigator with tenure in 2015. Dr. Jothi is the recipient of the NIEHS Early Career "Rising Star" Award in 2009 and the Ruth L. Kirschstein Mentoring Award in 2016.
Related Scientific Focus Areas
This page was last updated on Tuesday, July 17, 2018