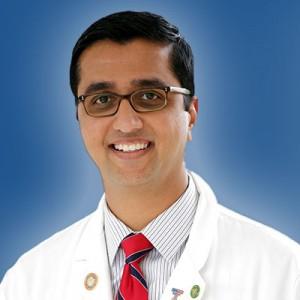 Pravitt Gourh, M.D.
Assistant Clinical Investigator
Scleroderma Genomics and Health Disparities Unit
NIAMS
Research Topics
Dr. Gourh's lab is using genomic technologies to understand autoimmune, fibrotic, and health disparity conditions. Dr. Gourh's lab has taken a comprehensive approach towards identifying both common and rare variants associated with disease susceptibility.
To identify common variants, Dr. Gourh's lab utilizes SNP microarray genotyping and imputation for fine-mapping, followed by a genome-wide association study (GWAS) to identify disease-associated genetic variants. To identify rare variants, Dr. Gourh's lab utilizes high-throughput DNA sequencing platforms for whole genome or whole exome sequencing followed by variant annotation and scoring to prioritize causal variants. Dr. Gourh's lab also uses gene mapping tools to identify genetic loci associated with traits in recently admixed populations (admixture mapping).
Another goal of Dr. Gourh's lab is to understand transcriptional regulation of these disease-associated genes using cutting-edge technologies, including RNA-seq, eQTL, Hi-C, ATAC-seq, ChIP-seq, CUT&RUN, CRISPR-Cas9 genetic screens, and bioinformatics.
Focus Areas
Scleroderma
Dr. Gourh has been involved in the establishment of the Genome Research in African American Scleroderma Patients (GRASP) consortium. It is comprised of 25 centers across the United States. Dr. Gourh's lab's goal is to enroll scleroderma patients, and perform genomic mapping to identify SSc-specific risk variants, contributing to disease risk and severity.
Autoimmunity
Antibodies directed towards self-antigens are a hallmark of autoimmune diseases. Dr. Gourh's lab is interested in understanding the timing and development of autoantibodies in the pre-clinical phase of autoimmune diseases. Human leukocyte antigen (HLA) genes have the strongest influence on autoimmune disease susceptibility and these HLA alleles encode variations in the antigen-binding grooves of the HLA molecules that determine their binding affinity for specific antigens presented to T cells. T cells recognize these peptide-HLA complexes by the T cell receptor (TCR), located on the surface of T cells. We are using next generation sequencing technologies to analyze the extreme diversity of the TCR repertoire. Elucidating the role of the HLA molecules in antigen recognition, peptide presentation and autoimmunity induction is an important area of focus. Dr. Gourh's lab is also exploring the link between HLA alleles, autoantibodies, and environmental triggers in the pathogenesis of autoimmune diseases.
Biography
Pravitt Gourh, M.D. is a board-certified rheumatologist with a long-standing interest in scleroderma and autoimmunity. He currently directs a translational research program focused on understanding the genetics of pediatric and adult scleroderma, biomarker discovery, and disease classification.
Dr. Gourh received his medical degree in India, after which he conducted postdoctoral research in genetics at the McGovern Medical School, part of the University of Texas Health Science Center at Houston. He then joined the faculty and went on to become Assistant Professor of Medicine. Dr. Gourh completed his medical training at Houston, followed by an adult rheumatology fellowship at the National Institute of Arthritis and Musculoskeletal and Skin Diseases (NIAMS). He became a Henry Metzger Scholar in Translational Medicine at the NIAMS and began studying the genetics of African American scleroderma patients. Dr. Gourh was appointed as an Assistant Clinical Investigator in 2019 and is also an attending physician on the NIH Rheumatology Consultation Service.
Related Scientific Focus Areas
This page was last updated on Tuesday, August 9, 2022