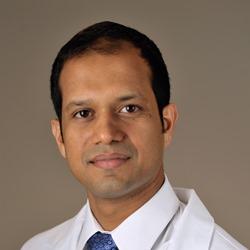 Prashant Chittiboina, M.D.
Assistant Clinical Investigator
Neurosurgery Unit for Pituitary and Inheritable Diseases
NINDS
Building 10, Room 3D20
10 Center Dr
Bethesda, 20892-1414
301-496-5728
Research Topics
The emphasis of my unit is translational research that addresses challenging clinical problems through the use of imaging and laboratory techniques. My unit is pursuing efforts to improve imaging of currently MRI- invisible pituitary tumors with novel intraoperative MRI, FDG-PET and near-infrared imaging. This research is supported by laboratory work to better understand the metabolism of pituitary tumors. Investigations into MRI findings in Neurofibromatosis 2 are leading to new surgical modalities for management of hearing loss from small vestibular schwannomas. Recent findings from DOTATATE-PET findings in VHL hemangioblastomas are also leading to exciting clinical trials in the management of hemangioblastomas.
Biography
Dr. Chittiboina earned his M.D. from Goa University (India) in 2000 and a Master of Public Health from Idaho State University in 2004. He completed his residency in neurosurgery at Louisiana State University in 2012. During his residency, Dr. Chittiboina also completed a year-long research fellowship studying neuro-vascular disease. He came to NINDS in 2012 as a fellow, becoming a Staff Clinician in the Surgical Neurology Branch in 2013. He became an Assistant Clinical Investigator in 2015. His laboratory studies neurosurgical disorders of the pituitary gland and disorders arising from inheritable tumor syndromes. His current work is focused on changing the outcomes of neurosurgical disorders through improved imaging.
Related Scientific Focus Areas
---
This page was last updated on September 2nd, 2020