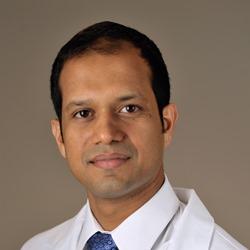 Prashant Chittiboina, M.D.
Investigator
Neurosurgery Unit for Pituitary and Inheritable Diseases
NINDS
Research Topics
The emphasis of my unit is translational research to address challenging clinical problems . Using precious surgical tissues, my group performs transcriptomic, epigenomic and functional mapping of central nervous system tumors. A detailed map of the transcriptome and epigenome in pituitary and inheritable tumors is generating hypotheses and is improving our understanding of underlying pathogenic mechanisms. We have also successfully applied these findings back to the clinical realm with clinical trials in metabolic imaging and targeted therapy of central nervous system tumors.
Biography
Dr. Chittiboina earned his M.D. from Goa University (India) in 2000 and a Master of Public Health from Idaho State University in 2004. He completed his residency in neurosurgery at Louisiana State University in 2012. During his residency, Dr. Chittiboina also completed a year-long research fellowship studying neuro-vascular disease. He came to NINDS in 2012 as a translational research fellow, becoming a Staff Clinician in the Surgical Neurology Branch in 2013. He became an Assistant Clinical Investigator in 2015 and a Tenure Track Investigator in 2020. His laboratory studies neurosurgical disorders of the pituitary gland and inheritable tumor syndromes. His current work is focused on improving the outcomes of neurosurgical disorders through translational research approaches.
Related Scientific Focus Areas
This page was last updated on Wednesday, June 28, 2023