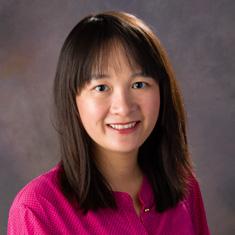 Ping Zhang, Ph.D.
Stadtman Investigator
Structural Biophysics Laboratory
NCI/CCR
Bldg. 538/Room 118
Frederick, MD 21701
301-228-4092
Research Topics
We apply interdisciplinary approaches spanning many fields such as cryoEM, X-ray crystallography, solution methods, biochemistry, and cell signaling, etc. We aim to combine structural and functional studies to reveal the molecular mechanism of kinase complexes in health and disease and help develop novel reagents that may eventually lead to a cure for cancer and other diseases.
Biography
Dr. Zhang received her Ph.D. training in Dr. Michael Rossmann's lab at Purdue University in the field of biochemistry and structural virology.  Her Ph.D. project was resolving the structures of poliovirus-receptor complexes using X-ray crystallography and cryo-electron microscopy (cryo-EM).  She completed her postdoctoral training in Dr. Susan Taylor's laboratory at UCSD, working on a signal transduction system related to human diseases and learning other techniques in structural biology and cell signaling that are suited for studying dynamic signaling complexes. She joined the Structural Biophysics Laboratory at NCI as a Stadtman Tenure Track Investigator in August 2016.
Related Scientific Focus Areas

---
This page was last updated on August 17th, 2020