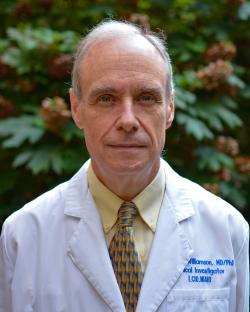 Peter Richard Williamson, M.D., Ph.D.
Senior Investigator
Translational Mycology Unit
NIAID/DIR
Research Topics
The Translational Mycology Unit seeks to understand the role of host-pathogen genetics in the outcome of fungal infections. We use an array of methods from fungal genetics, cell biology, immunology, and population genetics to identify and validate weak points of the host-pathogen interface that might facilitate personalized therapeutic intervention.
The laboratory currently is focusing on studies of the AIDS-related pathogen Cryptococcus neoformans, which has become the fourth leading cause of infectious death in regions of the developing world, as well as Candida albicans, a major cause of bloodstream infections in the United States.
Biography
Dr. Williamson received his M.D./Ph.D. from Boston University in 1987 and completed a residency in internal medicine at Georgetown University before coming to the National Institutes of Health (NIH) for a fellowship in infectious diseases. In 1995, after serving a short stint as chief medical officer, Lalmba Sudan, Dr. Williamson joined the faculty at the University of Illinois at Chicago as an assistant professor of medicine in the section of infectious diseases. After progressing to the rank of professor of medicine, pathology, microbiology, and immunology, Dr. Williamson then returned to NIH to head the Translational Mycology Unit in the Laboratory of Clinical Infectious Diseases.
Related Scientific Focus Areas
This page was last updated on Tuesday, August 22, 2023