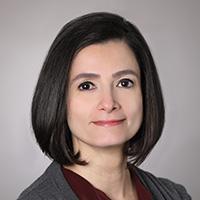 Parizad Torabi-Parizi, M.D.
Investigator
Laboratory of Basic and Translational Immunology
NHLBI
Research Topics
Dr. Torabi-Parizi's program focuses on understanding innate immune cell and effector T cell behavior in peripheral tissues, mechanisms regulating such behavior, and possible interventions that might modulate these responses to improve host outcomes in the context of critical illness, with a particular emphasis on checkpoint pathways. Her current work includes establishing rodent models of sepsis and acute lung injury that allow for the evaluation of molecular mechanisms of host injury and the introduction of therapeutic interventions to alter outcomes.
Biography
Dr. Parizad Torabi-Parizi earned her undergraduate degree in Chemistry and degree in Medicine from Emory University. She completed her internship and residency training in Internal Medicine at the Johns Hopkins Hospital Osler Training Program. She then completed her fellowship training in Critical Care Medicine at the NIH and is now a Tenure-Track Investigator in the NHLBI.
Related Scientific Focus Areas
This page was last updated on Wednesday, June 28, 2023