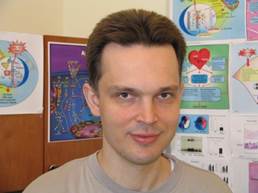 Pal Pacher, M.D., Ph.D.
Senior Investigator
Laboratory of Cardiovascular Physiology and Tissue Injury
NIAAA
Research Topics
Dr. Pacher's lab identified a key opposing regulatory role of peripheral cannabinoid CB1 and CB2 receptors in inflammatory processes, oxidative stress and tissue injury associated with ischemia reperfusion, vascular inflammation, nephropathy, and diabetic complications. The Pacher lab also contributed to the understanding of the role of endocannabinoids and their metabolic pathways during tissue injury, and demonstration of the therapeutic and translational potential of certain Cannabis sativa(marijuana)-derived non-psychoactive phytocannabinoids or their synthetic, more stable analogs, which previously were considered to be inactive. Dr. Pacher's prior and recent work have also identified several novel therapeutic targets/leads related to oxidative stress/cell death pathways reaching clinical development.
His recent research interest is to understand the interplay of the oxidative and nitrative stress with inflammatory, cell death and lipid signaling pathways during tissue injury, and to identify novel therapeutic targets to counteract these pathological processes.
Biography
Pal Pacher received his M.D. and Ph.D. (summa cum laude) at Semmelweis University of Medicine, Hungary in 1993 and 1999. After spending 2 years at Thomas Jefferson Medical University in Philadelphia, and 2 additional ones in the drug development in Boston area he joined NIH at 2003, where he became Chief of Section on Oxidative Stress and Tissue Injury in 2005; was tenured in 2012, and became Head of Laboratory of Cardiovascular Physiology and Tissue Injury in 2015.He is also an adjunct Professor of Anesthesiology at Department of Anesthesiology, University of Texas Medical Branch.
Dr. Pacher co-authored over 300 peer-reviewed publications and with over 30,000 citations listed among top 50-100 most cited researchers in the World in Pharmacology and Toxicology fields during the past decade since 2010, and also among the top 1% cited in Clinical Medicine, Biology and Biochemistry fields. He has also been listed in Highly Cited 2014, 2015, and 2016 in Pharmacology & Toxicology (based on number of highly cited papers and total citations) and was included in list of: "The World's Most Influential Scientific Minds 2014", 2015 and 2016 Thomson Reuters, Institute of Scientific Information. He is editorial board member of numerous scientific periodicals, recipient of numerous national/international research awards and grants, and elected Fellow of the American Heart Association, American College of Cardiology, and American Physiological Society. He is also a member of the Steering Committee of the Cancer Redox Biology Faculty at National Cancer Institute.
Related Scientific Focus Areas
This page was last updated on Thursday, August 31, 2023