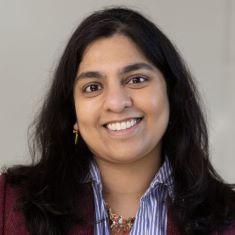 Padma Sheila Rajagopal, M.D., M.P.H., M.Sc.
Assistant Clinical Investigator
Cancer Data Science Laboratory
NCI/CCR
Research Topics
Extensive molecular data is increasingly used in clinical oncology to identify predictors of response to therapeutic options or to gain prognostic information, including germline (hereditary) and somatic (tumor-specific) DNA sequencing and RNA/transcriptomic assays. However, use of these data types in the clinic remains limited to specific, narrow contexts, creating one of the largest hurdles in oncology's current ability to leverage precision strategies.
The goal of this lab is to advance clinically relevant tools / information for treatment prediction and outcome prognostication in cancer through integration of data types and use of models from statistical genetics. To this end, the Rajagopal Lab currently works in two major domains:
Linking germline and somatic data to treatment outcomes across datasets
Adapting published computational approaches using transcriptomic data for applications in breast cancer, including hereditary cancer populations
Biography
Dr. Padma Sheila Rajagopal received her M.D. at Columbia University's College of Physicians and Surgeons, during which she also received an M.P.H. in quantitative methods with a focus on genetic epidemiology at the Harvard School of Public Health. She completed her internal medicine residency training at the University of Pittsburgh and a fellowship in hematology/oncology and additional fellowship year focused on cancer genetics at the University of Chicago, where she received an M.Sc. in biomedical informatics.
Dr. Rajagopal is a recipient of the Ruth L. Kirschstein F32 Postdoctoral Fellowship and the American Society of Clinical Oncology / Breast Cancer Research Foundation Conquer Cancer Young Investigator Award for her research on integrating germline variants through a predicted transcriptome model of the breast and comparing prognostication of outcomes in breast cancer to the tumor transcriptome. She joined the Cancer Data Science Laboratory as an Assistant Clinical Investigator in 2021.
Related Scientific Focus Areas
This page was last updated on Tuesday, November 14, 2023