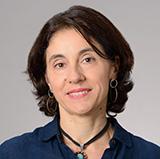 Niki Moutsopoulos, D.D.S., Ph.D.
Senior Investigator
Oral Immunity and Inflammation Unit
NIDCR
Building 30, Room 327
30 Convent Drive
Bethesda, MD 20892
301-435-7182
Research Topics
Dr. Moutsopoulos is a dentist, specialized in periodontics and holding a Ph.D. in immunology. Her doctorate and post doctorate work has focused on immune-mediated pathologies that present in the oral cavity including Sjogren's syndrome, periodontal disease and chronic wound healing. While these are distinct disease entities, they share as a salient feature non-resolving inflammation and immune mediated tissue destruction of which the mechanisms have been in the center of her research interest.  Activation of chronic inflammatory pathways in various disease entities have been linked to genetic susceptibility of the host, though emerging evidence implicates microbial factors for the initiation of disease pathogenesis for the majority of chronic inflammatory and autoimmune pathologies.
Dr. Moutsopoulos's program is focusing on host-microbial interactions that can drive chronic inflammatory responses and tissue destruction in the oral cavity. In her laboratory host-microbial interactions are interrogated through the use of in vitro culture systems and animal models, but her primary focus is on the study of immune-microbial interactions in humans. For this her laboratory is interrogating the oral microbiome and immune responses in the oral cavity in patient populations with oral inflammatory conditions.
Biography
Education:
1998 - D.D.S., Aristotle University of Thessaloniki, Greece
2003 - Certificate in Periodontics, Baltimore College of Dental Surgery, University of Maryland
2006 - Ph.D., Department of Diagnostic Sciences and Pathology, Baltimore College of Dental Surgery, University of Maryland/National Institutes of Health
Brief Chronology of Employment:
2004-2006 - Intramural Research Trainee Award (IRTA), NIDCR
2006-2008 - Research Fellow, NIDCR
2008-2010 - Clinical Fellow, NIDCR
2007-Present - Adjunct Clinical Assistant Professor, Department of Periodontics, University of Maryland
2010-Present - Assistant Clinical Investigator, NIDCR
Related Scientific Focus Areas

---
This page was last updated on June 4th, 2020