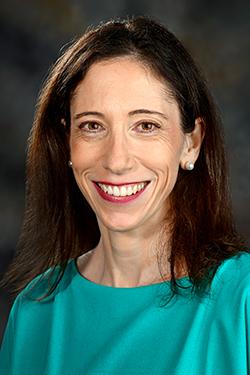 Natalie Shaw, M.D., MMSc.
Lasker Clinical Research Scholar
Clinical Research Branch / Pediatric Neuroendocrinology Group
NIEHS
Research Topics
Our group has three major research interests:
To investigate the contributions of body weight, abnormal sleep patterns, and other environmental factors to irregular menstrual cycles in adolescent girls during the first few years after menarche (a girl's first period). While irregular menstrual cycles are a common part of female development, a subset of teens never make the critical transition to normal menstrual cycles. By investigating the physiologic and pathophysiologic underpinnings of irregular menstrual cycles in adolescent girls in the 1-2 years after their first menses, the Pediatric Neuroendocrinology Group intends to identify those girls who are at high-risk for reproductive dysfunction as adults. Girls with pathologic menstrual cycle patterns would then be encouraged to seek early treatment to prevent future hormonal and metabolic complications.
To determine the influence of obesity on pubertal timing in girls. Over the past decade, there has been an alarming trend toward earlier breast development in girls. The contemporaneous obesity epidemic has led to speculation that obesity may be driving early puberty. However, questions remain about the validity of reports of early puberty among obese girls due to the difficulty in distinguishing fatty tissue from breast tissue by palpation in this population. The physiological basis for early puberty among obese girls is also unknown. The group has initiated the NIEHS Body Weight & Puberty Study to investigate pubertal development in obese compared with normal weight girls using more robust methods such as breast ultrasonography. Study procedures also include blood draws, DEXA (for body composition), hand x-ray (for bone age), transabdominal (pelvic) ultrasounds, and anthropometrics (height, weight, BMI, waist-hip ratio). The group is actively recruiting for this study, which is being conducted at the NIEHS Clinical Research Unit.
To determine the genetic architecture of Bosma Arhinia Microphthalmia Syndrome, a rare syndromic form of hypogonadism. Patients with Bosma syndrome are born without an external nose (arhinia) and with small or absent eyes (microphthalmia or anophthalmia). They also don't undergo puberty and are infertile (hypogonadotropic hypogonadism). This condition is extremely rare, with only about 70 cases reported worldwide in the past century. The group is working with scientists at Harvard University, Duke University, and the University of Edinburgh to determine the genetic basis for Bosma syndrome using next generation sequencing.
Biography
Dr. Shaw received a B.S. from Cornell University, an M.D. from the State University of New York (SUNY) at Buffalo, and a Masters in Medical Sciences (MMSc) from Harvard Medical School. She completed her pediatrics residency at Children's Hospital of Pittsburgh, a pediatric endocrinology fellowship at Boston Children's Hospital, and a clinical research fellowship in the Reproductive Endocrine Unit at Massachusetts General Hospital. She is now a Lasker Clinical Research Scholar and PI of the Pediatric Neuroendocrinology Group in the Clinical Research Branch of NIEHS.
Related Scientific Focus Areas
This page was last updated on Tuesday, February 23, 2016