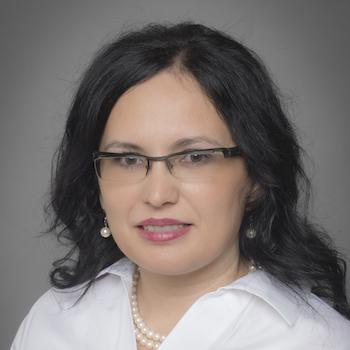 Mioara Larion, Ph.D.
Investigator
Neuro-Oncology Branch
NCI/CCR
Building 37, Roon 1136A
Bethesda, MD 20892
240-760-6825
Research Topics
The overarching goal and drivers behind Dr. Larion's research are to eventually observe the direct impact that cancer metabolomics can have on patient diagnosis, treatment and survival. This can be achieved through her two projects, the first of which focuses on studying how non-invasive probes for imaging allow direct visualization of metabolic reprogramming indicative of disease progression. This is specifically focused on IDH-mutant gliomas that very often transform or recur and have limited therapeutic response. This early diagnostic probe would be essential in determining how soon patients with IDH-mutant glioma progress as well as developing a more predictable timeframe for therapeutic intervention. 
Additionally, since IDH mutations can cause metabolic reprogramming resulting in a Warburg-effect phenotype, the second aspect of Dr. Larion's research focuses on how this can be exploited for therapeutic development or imaging studies that aid earlier diagnosis of progression. Intracellular proteins, lipids and nucleic acids can be quantified at the cellular and organelle level using Raman spectroscopy, which has been a significant contributing technology to this project.  Capturing changes in these molecules has allowed a deeper understanding of the intrinsic vulnerabilities of IDH-mutant glioma cells and studying this disease from various angles which may result in better diagnostic, surgical and therapeutic benefits for patients. Dr. Larion hopes that her research endeavors will eventually lead to the creation of a "metabolomic map" for each patient outlining their nutrient availability, mutational profile, and metabolomic dependency possibly segregated by organelles using Raman spectroscopy. 
Biography
Dr. Larion is originally trained as a biochemist and biophysicist during both her Bachelor of Science degree in Romania, and her Master of Science and Ph.D. degree from the Department of Chemistry and Biochemistry at Florida State University. Her work in organic chemistry during graduate school involved saturation transfer EPR and enzymology. During this time, Dr. Larion developed a passion for learning enzymes function and how this can cause or exacerbate certain disease states. Shortly thereafter, she joined the Neuro-Oncology Branch as NIH as an investigator and was introduced to the field of oncology, where she now leads the Metabolomics Program. 
Dr. Larion is also involved in a number of committees outside her research including serving as the Co-Chair of the Visiting Scholars Program at this branch and participating in NIH Grant Review Panels for metabolomics-related research, organizer of Metabolomics Association of North America conference. 
Honors, Awards and Leadership
Organizer, 1st Metabolomics Association of North America - 2019
Patent: "Detection of D-2HG in tissue and intra-operando via Raman Imaging Microscopy"
2019 Performance Award
2018 Performance Award
Presenter, Member of the "Precision Medicine Task Force", Metabolomics Society - 2018
Member, NIH Review Panel for Metabolomics ZRG1 BST-X (50) – 2016 to present 
Co-Chair, Visiting Scholars Program for Neuro-Oncology Branch – 2016 to present 
Select Societies and Initiatives
American Association for Cancer Research (AACR) 
Society of Neuro-Oncology (SNO) 
Biophysical Society
Related Scientific Focus Areas
---
This page was last updated on February 5th, 2020