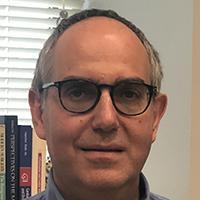 Michael N. Sack, M.D., Ph.D.
Senior Investigator
Laboratory of Mitochondrial Biology and Metabolism
NHLBI
Research Topics
Dr. Sack's laboratory focuses on modifications of proteins that play pivotal roles in metabolism and mitochondrial function to understand how these modifications affect disease risk. The major regulatory proteins being explored in the Sack laboratory include SIRT3, GCN5L1 and Parkin. The effects of these nutrient- and stress-regulatory proteins on mitochondrial biology and metabolism are explored in the context of disease pathophysiology with studies in both experimental systems with translation to the human subjects. The objective of these studies are to understand how nutrient- and other stress- signaling events cause or exacerbate disease and whether therapeutic interventions can be tested that reverse these pathologies. Current diseases being explored include cardiovascular disease, immune activation and Early Onset Parkinson Disease.
Biography
Michael Sack graduated with his M.B.B.Ch. and M.Sc. from the University of Witwatersrand and earned his Ph.D. in 2000 from the University of Cape Town in South Africa. He did his internship at Johannesburg General Hospital and his internal medicine residency at Georgetown University Medical Center. He conducted cardiology research and did a clinical fellowship at Washington University Medical Center from 1994 to 1997. Dr. Sack joined the NHLBI in 2003. Dr. Sack has authored or coauthored more than 100 papers, editorials, reviews, and book chapters. He currently sits on the editorial boards of the Journal of Molecular and Cellular Cardiology, Mitochondrion, Journal of Gerontology, and Drug Discovery Today and is a member of the American Society for Clinical Investigation.
Related Scientific Focus Areas
This page was last updated on Wednesday, August 24, 2022