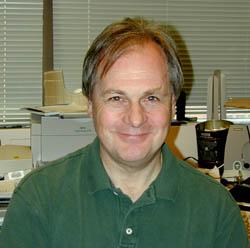 Michael J. O'Donovan, M.D., Ph.D.
Senior Investigator
Developmental Neurobiology Section
NINDS
Building 35, Room 3C-1014
35 Convent Drive
Bethesda, MD 20892-3700
301-496-8892
Research Topics
Research in this section is concerned with the development and operation of circuits in the spinal cord. We are currently devoting most of our effort to understanding the organization of spinal circuitry involved in locomotion of the neonatal mouse. We are particularly interested in understanding the role of motoneurons in the operation of locomotor networks and the mechanisms responsible for the excitatory effects of motoneurons within the spinal cord.

Our current effort is focussed on understanding how motoneurons trigger and modulate the locomotor rhythm in the neonatal spinal cord. This involves several techniques including, whole cell patch clamping, calcium and voltage imaging, optogenetics and immunocytochemistry.
Biography
Dr. O'Donovan received his M.D. from the University of Bristol, England in 1972 and his Ph.D. in neuroscience from the Sherrington School of Physiology, at St. Thomas' Hospital Medical School, London in 1978. He then came to the United States to do post-doctoral work at the NIH and then Yale University, where with Dr. Lynn Landmesser he became interested in the development of spinal networks. In 1982 he joined the faculty of the Department of Physiology and Biophysics at the University of Iowa. In 1988 he joined the Laboratory of Neural Control at the NINDS and in 1991 became chief of the Section on Developmental Neurobiology. His major research interest is in the organization of motor networks in the spinal cord.
---
This page was last updated on July 30th, 2020