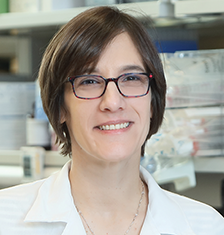 Marielle E. Yohe, M.D., Ph.D.
Lasker Clinical Research Scholar
Laboratory of Cell and Developmental Signaling
NCI/CCR
Research Topics
The RAS/MAPK pathway is frequently dysregulated in several pediatric solid tumors and in the RASopathy cancer predisposition syndromes. In addition to its well-characterized role in cellular proliferation, the RAS/MAPK pathway also impacts cellular differentiation, which can be readily studied in these embryonal tumors and developmental disorders. Initial efforts at targeting the RAS/MAPK pathway in cancer and the RASopathy neurofibromatosis type I (NF1) have used agents that inhibit the MEK1/2 kinases.
In malignancies, responses to MEK inhibitors are short-lived due to rebound MAPK activation; however, in NF1-associated plexiform neurofibromas, responses to the MEK inhibitor selumetinib are durable, which resulted in the FDA approval of selumetinib for this indication. There is a pressing need for new treatment strategies that elicit more durable clinical responses in RAS/MAPK pathway-driven tumors. as well as therapeutic options for patients with non-NF1 RASopathies.
Our research group aims to address these needs through several ongoing projects:
Identification of epigenetic and signaling pathways that positively and negatively impact FN-RMS differentiation
Evaluation of novel RAS-directed agents or combinations of agents that minimize ERK activation in RAS-driven pediatric cancers and translation into clinical trials
Evaluation of RAS/MAPK targeted agents in mouse models of RASopathies and clinical translation
Functional validation of novel RASopathy-associated RAS/MAPK variants
Biography
After completing her undergraduate work at Wellesley College, Dr. Yohe received her M.D. and Ph.D. from the University of North Carolina at Chapel Hill. She did her graduate work in the laboratory of Dr. John Sondek in the Department of Pharmacology. In this work, she addressed how truncation of Dbl-family Rho guanine nucleotide exchange factors leads to their aberrant activation. She completed her internship and residency in pediatrics at Connecticut Children's Medical Center in Hartford, CT, followed by fellowship training at the combined National Cancer Institute - Johns Hopkins University Hematology/Oncology program. She did her postdoctoral work in the laboratory of Dr. Javed Khan in the Genetics Branch of the CCR. That research led to the CCR milestone publication, "MEK inhibition induces MYOG and remodels super-enhancers in RAS-driven rhabdomyosarcoma." In 2017, Dr. Yohe became a Physician-Scientist Early Investigator in the Pediatric Oncology Branch of the CCR. In 2021, she became a Tenure Track Investigator in the Laboratory of Cell and Developmental Signaling, with a joint appointment in the Pediatric Oncology Branch. She is a past recipient of an Alex's Lemonade Stand Foundation Young Investigator Award and is board-certified in pediatrics and pediatric hematology/oncology.
Related Scientific Focus Areas
This page was last updated on Thursday, May 18, 2023