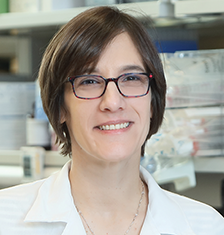 Marielle E. Yohe, M.D., Ph.D.
Assistant Clinical Investigator
Pediatric Oncology Branch
NCI/CCR
Building 10-CRC, Room 1-W-5817
Bethesda, MD 20892
240-760-7436
Research Topics
More than 30% of all human malignancies are driven by mutant RAS isoforms. In addition to well characterized roles in malignant transformation and tumor progression, oncogenic RAS is also able to block differentiation within a cancer cell. We have previously shown that inhibiting the RAS-RAF-MEK-ERK MAP kinase pathway restores the differentiation of rhabdomyosarcoma cells by affecting the transcription of the master transcription factor, MYOG. Current laboratory projects include characterizing the effect of oncogenic RAS on the differentiation of neuroblastoma cells and identifying mechanisms by which rhabdomyosarcoma cells acquire resistance to MAP kinase pathway inhibitors. In addition, the laboratory is engaged in translational research aimed at identifying additional RAS-directed therapeutics for pediatric cancers.
Biography
After completing her undergraduate work at Wellesley College, Dr. Yohe received her M.D. and Ph.D from the University of North Carolina at Chapel Hill. She did her graduate work in the laboratory of Dr. John Sondek in the Department of Pharmacology. In this work, she addressed how truncation of Dbl-family Rho guanine nucleotide exchange factors leads to their aberrant activation. She completed her internship and residency in pediatrics at Connecticut Children's Medical Center in Hartford, CT, followed by fellowship training at the combined National Cancer Institute - Johns Hopkins University Hematology/Oncology program. She did her postdoctoral work in the laboratory of Dr. Javed Khan in the Genetics Branch of the CCR. Dr. Yohe is board certified in General Pediatrics (2013) and Pediatric Hematology/Oncology (2017). She is the recipient of an Alex's Lemonade Stand Foundation Young Investigator Award.
Related Scientific Focus Areas
---
This page was last updated on October 1st, 2020