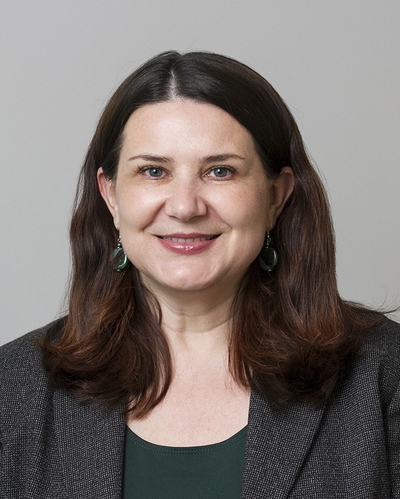 Ludmila Prokunina-Olsson, Ph.D.
Senior Investigator
Laboratory of Translational Genomics
NCI/DCEG
Research Topics
Recent genome-wide association studies (GWAS) have identified multiple common germline genetic susceptibility variants that may play a role in a variety of human diseases and outcomes. Dr. Ludmila Prokunina-Olsson explores the connections between the GWAS-identified genetic susceptibility variants and molecular phenotypes of importance for cancer. Some of her findings have resulted in translational and clinical applications.
Genetics of Bladder Cancer
Several GWAS for bladder cancer risk in individuals of European ancestry discovered multiple genomic regions with statistically significant associations. In addition to contributing to GWAS efforts, Dr. Prokunina-Olsson leads the post-GWAS analysis of these regions that includes genetic fine-mapping and functional molecular analysis of the candidate genetic variants and genes. In addition to bioinformatics tools, her lab uses a wide range of experimental tools to explore both coding and non-coding genetic variants, such as DNA and RNA sequencing, genotyping, RNA and protein expression, DNA-protein interaction analysis, genome editing, cell culture, epigenetic studies, etc. She is also exploring the regulation of somatic mutagenesis in bladder tumors by germline variants and environmental factors. This work resulted in comprehensive analyses of multiple GWAS regions associated with bladder cancer risk; the work on other GWAS regions is ongoing. Learn more about Dr. Prokunina-Olsson's laboratory.
Genetics of Infection and Cancer
Dr. Prokunina-Olsson's lab has discovered a novel human interferon, IFN-λ4, by performing a follow-up of GWAS findings for clearance of hepatitis C virus (HCV) infection. Chronic HCV is a primary etiological factor for the development of chronic liver disease and liver cancer. Dr. Prokunina-Olsson leads the genetic and functional studies on IFN-λ4 in relation to HCV and several other infections associated with cancer.
In response to the COVID-19 epidemic, Dr. Prokunina-Olsson's lab explored ACE2, the receptor for SARS-CoV-2 and discovered a novel isoform of this gene, designated as dACE2. Only dACE2 but not ACE2 was induced by interferon-high conditions, including viral infections and treatments, but only ACE2 was functional in supporting SARS-CoV-2 infection. dACE2 was found expressed in multiple tumors of squamous origin. These findings have provided important insights on COVID-19 etiology and molecular epidemiology, treatment options, and outcomes.
Related News
Biography
Dr. Prokunina-Olsson received an M.Sc. in molecular genetics from Moscow State University, Russia, and a Ph.D. in medical genetics from Uppsala University, Sweden, in 2004. During 2005-2008, she was a visiting fellow with Dr. Francis Collins in the Genome Technology Branch of the National Human Genome Research Institute, NIH. Dr. Prokunina-Olsson joined the Laboratory of Translational Genomics of DCEG as a research fellow in June 2008, became a tenure-track investigator in April 2010, and was awarded NIH scientific tenure and promoted to senior investigator in December 2014. She became Acting Chief of LTG in February 2018 and was appointed as Chief in December 2018. Dr. Prokunina-Olsson has been recognized for her research contributions with an NCI Director's Merit Award, several NCI Innovation and Intramural Research Awards and several awards outside the NIH. She received the DCEG Outstanding Mentor Award in 2017.
Related Scientific Focus Areas
This page was last updated on Tuesday, April 4, 2023