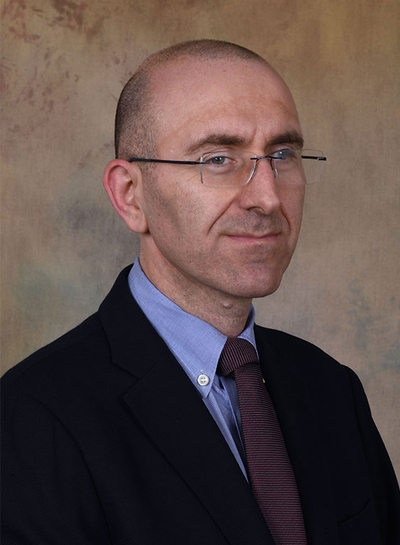 Lorenzo Leggio, M.D., Ph.D.
Senior Investigator
Translational Addiction Medicine Branch, Joint NIDA/NIAAA Clinical Psychoneuroendocrinology and Neuropsychopharmacology Section
NIDA
Deputy Scientific Director
NIDA
Biomedical Research Center
251 Bayview Boulevard
Suite 200, Room 01A844
Baltimore, MD 21224
443-740-2801
Research Topics
Dr. Leggio's CPN laboratory conducts clinical and translational inpatient and outpatient studies to identify possible novel medications for addiction. His group uses a combination of state-of-the-art, innovative bio behavioral and pharmacological procedures performed under well-controlled human laboratory conditions. Imaging brain techniques, such as fMRI and PET, are also employed. Dr. Leggio and his team are particularly interested in the role of the gut-liver-brain axis in alcohol- and drug-seeking behaviors. Specifically, the CPN laboratory is currently investigating the potential role of feeding-related pathways, such as ghrelin, leptin, oxytocin and GLP-1, as possible new neuropharmacological targets for the treatment of alcohol and substance use disorders. Other neuroendocrine pathways are also under investigation, such as the aldosterone / mineralocorticoid receptor pathway. The CPN laboratory has recently expanded its research looking at the role of the gut microbiota in heavy drinkers with a special emphasis on the relationships between alcohol-related seeking behaviors and the microbiota-gut-brain axis. Future research includes work on the effects of bariatric surgery on alcohol-related seeking behaviors. Both preclinical and human approaches are under development to shed light on the possible role of these pathways in alcohol and substance use disorders.
Biography
Dr. Lorenzo Leggio is a Senior Investigator (Clinical) in the NIH Intramural Research Program (IRP) with faculty appointments both at NIDA and NIAAA. He serves as Chief of the Clinical Psychoneuroendocrinology and Neuropsychopharmacology Section, a joint NIDA and NIAAA laboratory. He also serves as the NIDA Deputy Scientific Director, Chief of the NIDA IRP Translational Addiction Medicine Branch and Associate Director for Clinical Research for the NIDA IRP Medication Development Program. He also serves as a NIH Senior Attending Medical Staff and as senior medical advisor to the NIAAA Director. Dr. Leggio received his M.D. and Ph.D. from the Catholic University of Rome and 'Agostino Gemelli' hospital, where he also completed residency and received Board Certification in Internal Medicine. He was a visiting research associate, then postdoctoral research associate in Psychiatry and Human Behavior at Brown University, Providence, RI. In 2010, he joined the faculty of the Brown University Medical School as Assistant Professor and Core Faculty at the Brown University Center for Alcohol and Addiction Studies, where he still holds an adjunct appointment as Professor in Behavioral and Social Sciences. He is also an Adjunct Professor of Addiction Medicine at Johns Hopkins University and Adjunct Professor of Neuroscience at Georgetown University. Dr. Leggio's clinical research has been primarily focused on the treatment of alcohol and substance use disorders, with a special emphasis on the role of microbiome-gut-liver-brain and neuroendocrine pathways as well as GABAergic pathways; and on the medical consequences of alcohol use disorder, focusing on alcohol-associated liver disease. As a Principal Investigator at Brown University, Dr. Leggio received extramural research funding from NIAAA and NIDA, as well as from Brown University, the European Foundation for Alcohol Research, ABMRF/The Foundation for Alcohol Research, and the Brain and Behavior Research Foundation (NARSAD Young Investigator Award). In 2012, Dr. Leggio joined the NIH IRP as a joint NIAAA/NIDA Tenure-Track Clinical Investigator and Section Chief. He was awarded NIH tenure through the Central Tenure Committee and promoted to Senior Investigator (Clinical) in 2018 – two years before his tenure-track clinical appointment was completed. Dr. Leggio, together with his team, colleagues and collaborators have pioneered and conducted work on medication development, on the role of the microbiome-gut-liver-brain axis and on the role of neuroendocrine pathways in addictive behaviors via human laboratory studies and clinical trials as well as via translational and reverse translational experimental medicine approaches. Among other awards, he received the 2008 Nordmann Award from the European Society for Biomedical Research on Alcoholism, the 2016 Early Career Investigator Award from the Research Society on Alcoholism, the 2018 Eva King Killam Award from the American College on Neuropsychopharmacology and the 2020 Jacob P. Waletzky Award from the Society for Neuroscience.
Related Scientific Focus Areas
---
This page was last updated on December 14th, 2020