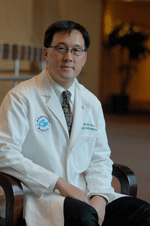 Leighton Chan, M.D.
Senior Investigator
Rehabilitation Medicine Department
NIH Clinical Center
Acting Scientific Director
NIH Clinical Center
Research Topics
Dr. Chan's clinical research interests include pulmonary rehabilitation for patients with rare lung diseases. In addition, he focuses on the diagnosis and treatment of patients with traumatic brain injury. Dr. Chan is also a trained health services researcher and directs a team of epidemiologists that analyzes large databases. Their goal is to identify and eliminate disparities in the health and well being of individuals with disabilities in the US. Currently, he has an extensive collaboration with the Social Security Administration to improve their disability determination process. In addition, he has a number of ongoing projects related to quality of care given to Medicare beneficiaries and Medicare payment policy issues.
Biography
Dr. Chan received his B.A. degree from Dartmouth College, with a major in political science, and graduated from the UCLA School of Medicine in 1990. He completed postgraduate training in Physical Medicine and Rehabilitation at the University of Washington, during which he obtained a Master of Science degree in Rehabilitation Science. Subsequently, he completed a Robert Wood Johnson Clinical Scholar Fellowship, earned a Master of Public Health degree at the University of Washington School of Public Health, and was a Congressional Fellow for the Honorable Jim McDermott (Washington). From 1994 to 2006, Dr. Chan was on the faculty of the University of Washington's Department of Rehabilitation Medicine. He is board certified in physical medicine and rehabilitation. Dr. Chan's awards include the Young Academician Award from the Association of Academic Physiatrists, two outstanding teacher awards from the University of Washington School of Medicine, and a Presidential Citation Award for excellence in research by the American Academy of Physical Medicine and Rehabilitation. He has published more than 80 peer reviewed articles and numerous book chapters. Since coming to NIH, he has received the NIH CC Director's and the NIH Director's awards for his work in traumatic brain injury. In 2007 he was elected to the Institute of Medicine, and he currently serves as the Chair of the IOM Membership Committee.
Related Scientific Focus Areas
This page was last updated on Friday, March 24, 2023