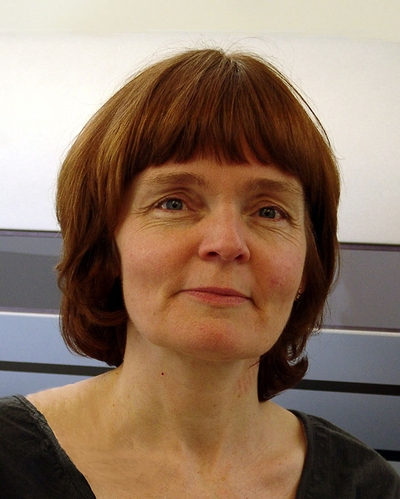 Laufey Amundadottir, Ph.D.
Senior Investigator
Laboratory of Translational Genomics
NCI/DCEG
9609 Medical Center Drive
Room ATC/134E
Rockville, MD 20850
240-760-6454
Research Topics
Major advances have occurred in the last few years in our understanding of the genetics of common diseases. Genome-wide association studies, which assess hundreds of thousands of single nucleotide polymorphisms (SNPs) in large cohort and case-control studies, have provided new insights into the inherited factors that contribute to risk of developing cancer. These efforts have led to the discovery of thousands of chromosomal loci that significantly associate with one or more complex diseases or traits, including cancer. However, for most of the identified loci, the elucidation of the functional basis underlying disease risk is in the very early stages. This interface between gene mapping approaches and the function of risk variants is of special interest to my laboratory.
Gene Mapping in Pancreatic Cancer
Dr. Amundadottir co-leads PanScan, a GWAS of pancreatic cancer conducted within the framework of the NCI-sponsored Cohort Consortium. Collaborative efforts are conducted with the Pancreatic Cancer Case Control Consortium (PanC4), the PANcreatic Disease ReseArch (PANDoRA) consortium, the European Study on Pancreatic Cancer Genetics and Epidemology (PanGen-EU), and Chinese and Japanese pancreatic cancer GWAS efforts. The aim of these large international studies is to identify genetic factors that contribute to the risk of pancreatic cancer. Four GWAS phases have already been performed in close to 12,000 case and 17,000 control subjects from over 30 cohort and case-control studies from the U.S., Europe and Asia. This work has resulted in the discovery of fourteen common susceptibility loci for pancreatic cancer on chromosomes 1q32.1 (NR5A2, two independent loci), 2p14 (ETAA1), 3q28 (TP63), 5p15.33 (three independent risk loci in the TERT-CLPTM1L region), 7p14.1 (SUGCT), 7q23.2 (LINC-PINT), 8q24.1 (MYC/PVT1 region, two independent loci), 9q34.2 (ABO), 13q12.2 (PDX1), 13q22.1 (nongenic), 16q23.1 (BCAR1/CTRB1/CTRB2), 17q24.3 (LINC00673) and 22q12.1 (ZNRF3). Further GWAS phases, as well as studies that aim at uncovering less common and rare pancreatic cancer risk variants, are underway.
Functional Characterization of Pancreatic Cancer Risk Loci
My laboratory conducts fine-mapping of risk loci identified in PanScan and collaborative gene mapping efforts, as well as wet-lab studies to uncover functional variants at each locus and understand the mechanism by which they influence risk of pancreatic cancer. This work involves genomic and epigenomic approaches, with a focus on genome-wide expression quantitative trait locus (eQTL) analyses to investigate the genetics of gene expression in normal and tumor derived pancreatic tissue samples and correlate to pancreatic cancer risk alleles as well as Transcriptome Wide Association Studies (TWAS) for gene mapping. These transcriptome and epigenome datasets are generated in our laboratory and supplemented with publicly available datasets. Furthermore, my laboratory focuses on targeted functional analyses in specific pancreatic cancer susceptibility loci. This work includes analysis of gene expression in the vicinity of risk variants, investigation of transcriptional regulation and gene/protein function with the aim of connecting pancreatic cancer risk variants to target genes and molecular phenotypes to explain the underlying biology of the risk at each locus.
Biography
Dr. Amundadottir received a Ph.D. in cell biology in 1995 from Georgetown University in Washington, D.C. She conducted her postdoctoral training with Dr. Phil Leder in the Department of Genetics at Harvard Medical School in Boston, Massachusetts, then joined deCODE Genetics in Iceland in 1998 as the head of the Division of Cancer Genetics, where she led genome-wide linkage and association efforts in various cancers. Dr. Amundadottir joined the NCI in 2007 as a senior scientist and became a tenure-track investigator in the Laboratory of Translational Genomics in 2008. She received NIH scientific tenure and was promoted to senior investigator in 2017. Her work focuses on genome-wide association studies (GWAS) and other gene mapping approaches to identify germline variants associated with risk of pancreatic cancer and the functional approaches required to understand the biological mechanisms by which they influence risk of pancreatic cancer.
Related Scientific Focus Areas
---
This page was last updated on October 20th, 2020