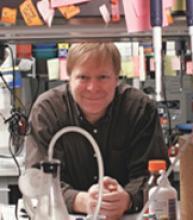 Kim J. Hasenkrug, Ph.D.
Senior Investigator
Retroviral Immunology Section
NIAID/DIR
Rocky Mountain Laboratories
Building 3, Room 3219
903 South 4th Street
Hamilton, MT 59840
406-363-9310
Research Topics
Our research is aimed at understanding host responses to retroviral infections. We use mice infected with Friend murine leukemia virus as a model to study basic immunology. A special interest is in chronic infections, including how chronic infections are established and maintained and developing strategies to prevent and treat them. Using this model, we discovered that viruses can subvert the suppressive nature of regulatory T cells to evade immunological destruction by CD8+ T cells. We also use "humanized" mice that contain human immune systems as a model to study immune responses to HIV infection and to help us determine basic mechanisms of vaccine protection against acute and chronic retroviral infections. We are currently using this model to study possible cures for latent HIV infections and to develop new therapeutics.
Biography
Dr. Hasenkrug received his Ph.D. in cell biology from the Albert Einstein College of Medicine in 1991 and conducted his postdoctoral research in the laboratory of Dr. Bruce Chesebro at the Rocky Mountain Laboratories. In 1998, he established an independent laboratory to study retroviral immunology and mechanisms of vaccine protection. A special focus of his work has been the study of establishment and maintenance of chronic infections and virus escape with a focus on regulatory T cells and T cell exhaustion. Dr. Hasenkrug serves as an affiliated associate professor at Montana State University and the University of Montana. In 2016 he was elected as a Fellow of the American Academy of Microbiology.
Editorial Boards
Related Scientific Focus Areas
---
This page was last updated on August 25th, 2021