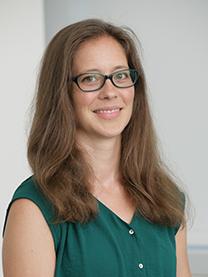 Katie S. Kindt, Ph.D.
Investigator
Section on Sensory Cell Development and Function
NIDCD
Porter Neuroscience Research Center, Room 1D-933
35 Convent Drive
Bethesda, MD 20892
301-443-2626
Research Topics
The Section on Sensory Cell Development and Function investigates how discrete subcellular signals, such as Ca2+ influx and vesicle release, shape hair cell development, and how these signals are required for proper physiological function. To study hair cell development and function we use the zebrafish as a model system. Similar to mammals, zebrafish have sensory hair cells that enable them to sense sound and maintain proper balance. Previous work has shown that the same genes that cause deafness in zebrafish are associated with hearing defects in humans and in mice. In contrast to mammals the embryonic and larval zebrafish routinely studied are transparent and develop externally, therefore hair cells in zebrafish can be studied in vivo.
Biography
Dr. Kindt received a B.S. degree in Molecular Biology and Biochemistry from the University Wisconsin-Eau Claire, and a Ph.D. in Biomedical Sciences from the University of California-San Diego, where she studied the function and development of mechanosensory circuits in Caenorhabditis elegans in the laboratory of William Schafer. During a postdoctoral fellowship with Teresa Nicolson at the Vollum institute she used a combination of scanning electron microscopy in vivo calcium imaging to investigate the role of the primary cilium in developing hair cells (Figure 1). Dr. Kindt joined the NIDCD as an investigator in 2013. Her laboratory uses molecular and microscopy-based methods to examine sensory cell function and development in the zebrafish model system.
Related Scientific Focus Areas
---
This page was last updated on August 27th, 2021