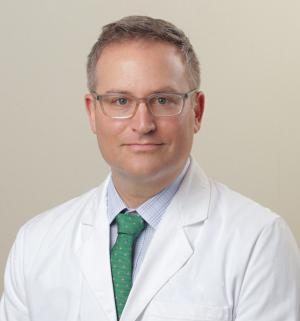 Joshua M. Levy, M.D., M.P.H., M.S.
Adjunct Investigator
Sinonasal and Olfaction Program
NIDCD
Research Topics
The Sinonasal and Olfaction Program is a multi-specialty team with diversity in thought, background, and training. Collectively, we seek to translate emerging basic science discoveries into impactful advances in patient care. Specific focuses include point-of-care diagnostics, post-viral olfactory dysfunction, and the role of endogenous cannabinoids in chronic airway inflammation in aspirin-exacerbated respiratory disease (AERD) and other forms of nasal polyps.
Biography
Dr. Levy joined the NIDCD as Clinical Director (CD) in April 2023. He focuses on establishing innovative clinical trials related to hearing, smell, and other communication disorders.
Previously, Dr. Levy served as Associate Professor and Associate Vice Chair of Research in the Department of Otolaryngology-Head & Neck Surgery at Emory University in Atlanta. He is a fellowship-trained rhinologist with a clinical and research focus on chronic sinusitis with nasal polyposis, a debilitating disease associated with marked loss of smell.
He completed his medical and public health training at Tulane University in New Orleans, where he also completed his residency in otolaryngology. Upon completing his residency in 2015, he joined Dr. Tim Smith for a fellowship in rhinology, sinus and skull base surgery at Oregon Health & Science University in Portland.
Selected Publications
Waggoner JJ, Vos MB, Tyburski EA, Nguyen PV, Ingersoll JM, Miller C, Sullivan J, Griffiths M, Stone C, Benoit M, Benedit L, Seitter B, Jerris R, Levy JM, Kraft CS, Farmer S, Peagler A, Wood A, Westbrook AL, Morris CR, Sathian UN, Heetderks W, Li L, Roth K, Barcus M, Stenzel T, Martin GS, Lam WA. Concordance of SARS-CoV-2 Results in Self-collected Nasal Swabs vs Swabs Collected by Health Care Workers in Children and Adolescents. JAMA. 2022;328(10):935-940.

Patel ZM, Holbrook EH, Turner JH, Adappa ND, Albers MW, Altundag A, Appenzeller S, Costanzo RM, Croy I, Davis GE, Dehgani-Mobaraki P, Doty RL, Duffy VB, Goldstein BJ, Gudis DA, Haehner A, Higgins TS, Hopkins C, Huart C, Hummel T, Jitaroon K, Kern RC, Khanwalkar AR, Kobayashi M, Kondo K, Lane AP, Lechner M, Leopold DA, Levy JM, Marmura MJ, Mclelland L, Miwa T, Moberg PJ, Mueller CA, Nigwekar SU, O'Brien EK, Paunescu TG, Pellegrino R, Philpott C, Pinto JM, Reiter ER, Roalf DR, Rowan NR, Schlosser RJ, Schwob J, Seiden AM, Smith TL, Soler ZM, Sowerby L, Tan BK, Thamboo A, Wrobel B, Yan CH. International consensus statement on allergy and rhinology: Olfaction. Int Forum Allergy Rhinol. 2022;12(4):327-680.
Related Scientific Focus Areas
This page was last updated on Thursday, August 10, 2023