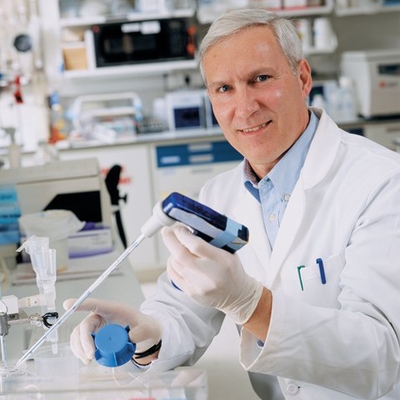 John T. Schiller, Ph.D.
NIH Distinguished Investigator
Laboratory of Cellular Oncology
NCI/CCR
Research Topics
Papillomaviruses: Basic Biology and Vaccine Development
Our research is primarily concerned with the elucidation of the molecular mechanisms of human papillomavirus (HPV) virion assembly and infection, development of vaccines and other agents to prevent and treat HPV infections and the neoplasia they induce, and the use of the insights obtained in these studies to develop treatments against other sexually transmitted infections and chronic diseases, including cancer. We have used our technologies for the generation of papillomavirus virus-like particles (VLPs) and high titers of infectious papillomavirus pseudovirions (PsVs) that transduce encapsidated marker plasmids to facilitate our basic virologic and translational research efforts. Ongoing projects include:
Elucidating the molecular mechanisms of HPV infection in cultured cells and epithelial tissues and determining how antibodies induced by HPV VLP vaccines prevent the process.
Determining the molecular mechanisms of HPV virion assembly and developing methods for generating high titer pseudovirus preparations in defined cell-free reactions for use in clinical trials.
Understanding the remarkable immunogenicity and efficacy of HPV VLP vaccines.
Developing therapeutic vaccines against HPV and Herpes simplex that would function by induction of tissue resident T cells after intravaginal vaccination.
Exploiting the unexpected tumor tropism of papillomavirus capsids to develop broadly applicable cancer therapies.
Biography
Dr. Schiller graduated from the University of Wisconsin-Madison with a B.S. in molecular biology in 1975. In 1982, he received a Ph.D. from the Department of Microbiology of the University of Washington in Seattle, then joined the Laboratory of Cellular Oncology as a National Research Service Award postdoctoral fellow in 1983. Dr. Schiller became a senior staff fellow in the Laboratory of Cellular Oncology in 1986 and a senior investigator in 1992. He became chief of the Neoplastic Disease Section of the lab in 1998, deputy lab chief in 2000 and designated as an NIH Distinguished Investigator in 2016. Dr. Schiller has received numerous awards for his contributions to papillomavirus virus molecular biology and HPV vaccine development, including the 2007 Service to America Medal – Federal Employee of the Year, the 2011 Albert Sabin Gold Medal Award, the 2011 AACR-American Cancer Society Award for Research Excellence in Cancer Epidemiology and Prevention, the 2014 National Medal of Technology and Innovation, and the 2017 American Society for Microbiology's Joseph Public Health Award.
Related Scientific Focus Areas
This page was last updated on Thursday, June 1, 2023