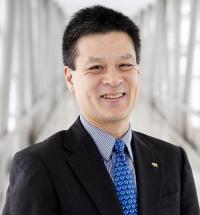 John Ngai, Ph.D.
Senior Investigator
Molecular Neurobiology Section and Director, NIH BRAIN Initiative
NINDS
Research Topics
Primary sensory neurons in the vertebrate olfactory system are continuously regenerated throughout adult life via the proliferation and differentiation of multipotent neural progenitor cells. This feature makes the olfactory system particularly amenable for studies on adult neurogenesis and the properties of neuronal stem cells. Olfactory sensory neurons normally turn over every 30-60 days and are replaced through the proliferation and differentiation of multipotent progenitor cells. Following injury that results in the destruction of mature cells in the olfactory epithelium, these adult tissue stem cells proliferate and differentiate to reconstitute all cellular constituents of this sensory epithelium. The regenerative capacity of the olfactory epithelium therefore represents a powerful and experimentally accessible paradigm for understanding the regulation of neural stem cell function under normal conditions and during injury-induced regeneration. We are interested in characterizing the genetic and epigenetic programs that both define and regulate olfactory neurogenesis during development and regeneration. Current projects employ a variety of approaches – including targeted gene knockouts to assess the function of transcription factors and stem cell factors, and single cell transcriptomics and epigenomics – to elucidate the molecular and cellular mechanisms regulating olfactory stem cells and olfactory neurogenesis in the mouse. Our studies provide a model for understanding the mechanisms regulating adult neural stem cells and lay the groundwork for the future development of treatments and therapeutics to ameliorate tissue damage and degeneration in the nervous system.
Biography
John Ngai joined the NINDS Intramural Research Program as a Senior Investigator in May, 2020, following 27 years as a faculty member at the University of California, Berkeley, where he was the Coates Family Professor of Neuroscience and Director of the QB3 Functional Genomics Laboratory. Dr. Ngai received his B.A. in Chemistry and Biology from Pomona College and Ph.D. in Biology from the California Institute of Technology. He then pursued postdoctoral studies at Columbia University before joining the UC Berkeley faculty in Molecular and Cell Biology. Dr. Ngai was previously Head of the Neuroscience Graduate program and Director of the Helen Wills Neuroscience Institute at UC Berkeley. He is the recipient of previous awards from the Alfred P. Sloan Foundation, the McKnight Endowment Fund for Neuroscience, and the Pew Charitable Trusts. On the national level, Dr. Ngai has served on the National Deafness and Other Communication Disorders National Advisory Council and on numerous NIH grant review panels, including as chair of the Training and Workforce Development study section of the National Institute of General Medical Sciences and several BRAIN Initiative review committees. Dr. Ngai's own research is focused on the regulation of adult neural stem cells and the diversity of neuronal cell types using high-throughput genomics approaches including single cell sequencing technologies. As Director of the NIH BRAIN Initiative, he is interested in supporting the development of innovative technologies that can be democratized for both basic neuroscience research and novel therapies for human brain disorders.
Related Scientific Focus Areas
This page was last updated on Wednesday, February 23, 2022