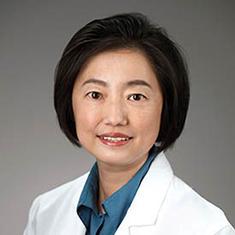 Jing Wu, M.D., Ph.D.
Lasker Clinical Research Scholar
Neuro-Oncology Branch
NCI/CCR
Building 37, Room 1142A Bethesda, MD 20892
240-760-6036
Research Topics
Dr. Wu's research is primarily focused on the clinical aspects of gliomas, which are rarely fully curable whether diagnosed as low- or high-grade disease, and also exhibit high levels of heterogeneity that make it challenging to treat long-term. Isocitrate dehydrogenase (IDH) genes are mutated in approximately 5% of all gliomas and 80% of low-grade gliomas, which in turn causes accumulation of 2-hydroxyglutarate (2-HG), leading to increased tumorigenic potential. While individuals with IDH-mutant low-grade gliomas often have slower disease progression and respond more favorably to treatment than IDH-wildtype tumors, almost all cases eventually transform to a more aggressive high-grade glioma that rapidly progresses. 
As there are significant gaps in knowledge that address how or why this transformation to high-grade disease occurs, the first facet of Dr. Wu's research is focused on developing a diagnostic tool to detect this transformation as early as possible in patients. This project utilizes the fact that levels of 2-HG and or metabolic flux may change as high-grade transformation takes place since glioma cells undergo a metabolic shift to aerobic glycolysis to support their rapid growth. The level of 2-HG can be detected by using 1H based Magnetic Resonance Spectroscopic Imaging (MRSI) and the metabolic flux can be detected by administering a 13C hyperpolarized pyruvate MRSI noninvasively into the patient, resulting in real-time tracking of the tumor's changes. These techniques will hopefully assist in uncovering the intracellular changes that represent tumor progression without the need for a biopsy or surgery. 
Once gliomas do transform to high-grade status, immunotherapy can be investigated as an option to test the hypothesis that those with increased mutational burden will be perform better on immunotherapy. One key feature of high-grade gliomas is the enormous intra- and inter-tumoral heterogeneity which are the driving factors for their aggressiveness and therapy resistance. To combat this, Dr. Wu's second project elucidates whether TG02, a multi-kinase inhibitor, primarily inhibits cyclin-dependent kinase 9 (CDK9) can target multiple cancer survival pathways simultaneously. This agent has the ability to cross the blood-brain barrier, therefore making it a favorable candidate for glioma treatment and has shown preclinical benefit when combined with Temozolomide, a commonly used alkylating chemotherapeutic agent in brain tumor treatment. This research has led to an actively recruiting Phase I/II clinical trial for patients with recurrent high-grade gliomas.
Biography
Dr. Wu received her Doctor of Medicine (M.D.) degree from Capital Medical University in Beijing, China prior to moving to the United States and pursuing Doctor of Philosophy (Ph.D.) in neuroscience from the University of Texas Medical Branch at Galveston. She subsequently completed an NIH post-doctoral fellowship under Dr. William D. Willis, who was a significant contributor to the fields of pain and neuroscience and a lifelong mentor to Dr. Wu. Following the Ph.D., she completed an internship in Internal Medicine at Texas Tech University Medical Center, a Neurology residency at The University of Texas Health Science Center (where she also served as the chief resident), and a Neuro-Oncology fellowship at The University of Texas MD Anderson Cancer Center. She then joined University of North Carolina (UNC) at Chapel Hill as a tenure-track assistant professor in the Department of Neurosurgery and Neurology. She served as the Co-Director of the Brain Tumor Program at the Lineberger Comprehensive Cancer Center and developed a clinical and translational research program in Neuro-Oncology at UNC.  
Dr. Wu joined the Neuro-Oncology Branch in 2015 as a staff physician and soon became the director of the Neuro-Oncology Fellowship Program and a tenure-track investigator overseeing multiple clinical trials. She was also awarded the NIH-Lasker Clinical Research Scholar Award in 2018, a prestigious opportunity that provides funding and support for exceptional clinical researchers to aid the development of their clinical research programs.
Dr. Wu is certified both by the American Board of Psychiatry and Neurology (ABPN) in Neurology and United Council for Neurologic Subspecialties (UCNS) in Neuro-Oncology and has published over 50 peer-reviewed articles while also serving as an invited reviewer for several prestigious journals. Her awards over her training and clinical tenure are impressive, including the William James Miller Endowed Fellowship Award in Neuro-oncology, NIH/NCI Paul Calabresi Clinical Oncology Scholar Award and the NIH-Lasker Clinical Research Scholar Award.
Honors, Awards and Leadership
NIH-Lasker Clinical Research Scholar - 2018 
NIH/NCI Paul Calabresi Clinical Oncology Scholar Award (K12 Career Award) - 2011-2014
Junior Faculty Scholarship for "Translational and Clinical Research Course for Clinician-
Scientist" (American Neurological Association) - 2011
William J. Miller Endowed Fellowship Award in Neuro-Oncology (MD Anderson Cancer Center) - 2009
Frank M. Yatsu MD Excellence in Residency Award (University of Texas Health Science Center) - 2008
Teva Neuroscience Excellence in Teaching Award (University of Texas Health Science Center) - 2008
Residents' Scholarship Award (American Academy of Neurology) - 2006
Jeanne B. Kempner Scholar Award (Jeanne B. Kempner Research Foundation) - 2000-2001
Curtis W. Lambert Scholarship Award (University of Texas) - 1999
George Sealy Excellence Research Award in Neurology (University of Texas) - 1998
Anatomy and Neuroscience Research Award (39th National Student Research Forum) – 1998
Societies and Initiatives
Center for Cancer Research (CCR) Science Board Member, NCI, NIH (2016 to present)
Regular Study Section Member, Grant Reviewer, CSR, NIH (2019 to present)
Clinilal Oncology Study Section (CONC), CSR, NIH
Society for Neuro-Oncology 2008 - present
Society for Neuroscience (2000-2010)
American Society of Clinical Oncology (ASCO) (2008-2015)
Collaborative Ependymoma Research Network (CERN), 2011- present Brain Tumor Trials Collaboratives Consortium (BTTC), 2011- present
Related Scientific Focus Areas
---
This page was last updated on March 17th, 2022