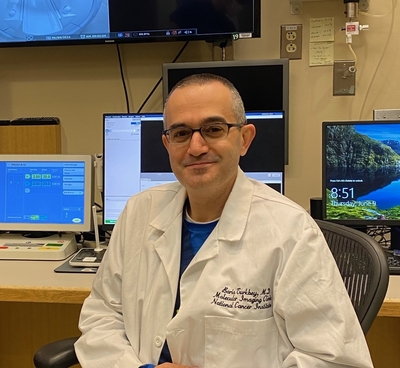 Ismail Baris Turkbey, M.D.
Senior Clinician
Molecular Imaging Branch
NCI/CCR
Building 10 - Room B3B85 Bethesda, MD 20892
240-760-6112
Biography
Dr. Turkbey obtained his medical degree from Hacettepe University in Ankara, Turkey in 2003. He completed his residency in Diagnostic and Interventional Radiology at Hacettepe University. He joined Molecular Imaging Branch (MIB), National Cancer Institute, NIH in 2007. His main research areas are imaging of prostate cancer (multiparametric MRI, PET CT), image guided biopsy and treatment techniques (focal therapy, surgery and radiation therapy) for prostate cancer and artificial intelligence. Dr. Turkbey is a member of Prostate Imaging Reporting & Data System (PI-RADS) Steering Committee. He is the Director Magnetic Resonance Imaging section in MIB and the Artificial Intelligence Resource in MIB. 
Related Scientific Focus Areas
---
This page was last updated on April 19th, 2022