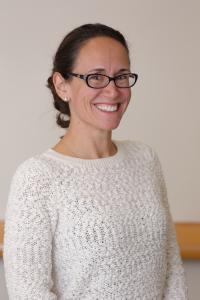 Irene Cortese, M.D.
Assistant Clinical Investigator
Experimental Immunotherapeutics Unit
NINDS
Research Topics
Our lab is focused on the study of a rare infection of the central nervous system called progressive multifocal leukoencephalopathy or PML. PML is caused by the JC virus, a common virus that does not cause illness in healthy people, but can lead to fatal disease in patients who are immune compromised.
The overarching goal of our lab is the translation of basic virological and immunological mechanisms associated with JCV infection to immunotherapeutic strategies of JCV-related disease. Our PML Natural History Study serves as a platform for characterizing host factors that affect susceptibility to JCV reactivation and PML and for the development of novel treatment strategies. Importantly this study has also enabled development of imaging and laboratory biomarkers of disease progression, which we have applied to early phase clinical trials.
Biography
Dr. Cortese is the Director of the Experimental Immunotherapeutics Unit (EIU). She was previously the Director of the NINDS Neuroimmunology Clinic from 2013-2021. Dr. Cortese received her medical degree and completed a neurology residency from the Universita' di Roma Tor Vergata in Rome, Italy. She subsequently completed a fellowship in neuroimmunology at NIH, and then obtained ECFMG certification Neurology Residency at Johns Hopkins Hospital.
Following residency, she was accepted to the Clinical Neurophysiology Fellowship at Johns Hopkins Hospital; this fellowship was carried contemporaneous to a part-time Clinical Neuroimmunology Fellowship at NIH. Following completion of her fellowships, she became a Staff Clinician at NIH. In 2011, she was made head of the Clinical Group in the Neuroimmunology Branch, and in 2013 she was made Director of the then newly established Neuroimmunology Clinic. In 2021 she was appointed Assistant Clinical Investigator and Head of the Experimental Immunotherapeutics Unit.
Related Scientific Focus Areas
This page was last updated on Friday, August 25, 2023