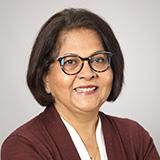 Indu Ambudkar, Ph.D.
Senior Investigator
Molecular Physiology and Therapeutics Branch
NIDCR
Building 10, Room 1N113
10 Center Drive
Bethesda, MD 20892
301-496-5298
Research Topics
Neurotransmitter regulation of salivary secretion is mediated by a sustained increase in intracellular [Ca2+] ([Ca2+]i) which is due to store-operated Ca2+ entry (SOCE), activated in response to IP3-depletion of ER calcium stores. This sustained elevation in [Ca2+]i regulates a number of key ion flux systems which concertedly drive salivary gland (SG) fluid secretion. Emerging studies reveal that cellular Ca2+, and more specifically Ca2+ entry, also regulates key mechanisms associated with gene expression, cell growth, differentiation, inflammation, and cell death. Our long term goal is to define the components that mediate and regulate Ca2+ entry into salivary gland cells and characterize the role of these in normal physiology as well as dysfunction/disease of salivary glands.
Our studies utilize a variety of approaches, including electrophysiology, cellular imaging, molecular biology, as well as biochemistry to determine the molecular basis of Ca2+ entry in salivary gland acini and the role of Ca2+ entry in fluid secretion. Our recent and ongoing studies are directed towards identifying the function, regulation, trafficking and assembly of the transient receptor potential channel, TRPC1. We have provided evidence that TRPC1 is an essential component of the agonist-stimulated Ca2+ influx mechanism that is required for sustained saliva secretion. We have identified two other important components of this mechanism, the calcium channel, Orai1, and the ER regulator of calcium channels, STIM1. Current studies are directed to understand and define the individual contributions of TRPC1 and Orai1 to salivary fluid secretion. We are also interested in identifying the regulation of the water channel, AQP5, during stimulation of the gland and secretion. Our work has led to the identification of TRPV4 as an essential TRP channel that is involved in cellular volume regulation. In addition other TRPC channels, TRPC3 and TRPC6, could also have important role in regulating other aspects of salivary gland function. These studies are ongoing.
We are also utilizing proteomic techniques to elucidate possible protein-protein interactions involving TRPC1, Orai1, and STIM1. By using the SILAC method and a shot-gun approach, we get a global read-out of the proteome associated with the channels in resting and stimulated conditions. Several interesting candidates have been identified and are currently being validated. Another approach to examine downstream effectors of Ca2+ signaling is by cDNA array analysis. We aim to identify key cell signaling networks that are regulated by Ca2+ that participate in salivary gland physiology or pathophysiology.
Another major area of focus is salivary gland damage associated with radiation treatment as well as Sjögren's syndrome. Major efforts are directed to understanding the role of the ROS-sensitive cation channel TRPM2 in salivary gland damage induced by irradiation and inflammation. Functional studies are being carried out to demonstrate the role of this channel in these processes. We propose that TRPM2 is a potentially useful target in strategies of protection of salivary gland function. Studies are also ongoing to look at the status of STIM1, Orai1, and TRPC channel proteins in pSS salivary glands and lymphocytes. The strategy is to modify locally within the salivary gland, by delivery of viral vectors, the expression of specific proteins (knock down or overexpression) and then assess the effects in normal secretion and in salivary dysfunction.
Biography
Education:
1973 - B.Sc. (Biology), Isabella Thoburn College, Lucknow, India
1975 - M.Sc. (Biochemistry), Lucknow University, Lucknow, India
1980 - Ph.D. (Biochemistry), Madurai Kamaraj University, Madurai, India
Professional Work Experience
2007 - Chief, GTTB, NIDCR, NIH
2006–2007 - Acting Chief, MPTB, NIDCR, NIH
1993–present - Chief, Secretory Physiology Section, Molecular Physiology and Therapeutics Branch, NIDCR, NIH
1988–1993 - Senior Staff Fellow (Tenure-track), Clinical Investigations and Patient Care Branch, NIDR, NIH
1991–1996 - Adjunct Assistant Professor, Department of Pathology, University of Maryland, School of Medicine, Baltimore, MD
1985–1988 - Visiting Associate, Clinical Investigations and Patient Care Branch, NIDR, NIH, Bethesda, MD
1984–1985 - Research Assistant Professor, Department of Pathology, School of Medicine, Baltimore, MD
1980–1983 - Research Associate, Department of Biological Chemistry, University of Maryland, School of Medicine, Baltimore, MD
Recent Honors, Awards, and Activities:
NIH Merit Award, 2000
Member, Oral Biology and Medicine, Study Section, 1997-2000
Administrative Chair WSA Committee, NIH (2005-2008)
Woman Scientists' Advisor to the Scientific Director, NIDR, 1993-1998, 2002-present
Member of the NIH Women's Advisory group
Co-Chair, NIH-Calcium Interest Group, 1997-present
Meetings/Conferences:
Chair, Gordon Conference on Calcium Signaling, 2007
Co-Chair; Gordon Conference on Calcium Signaling, 2005
Vice-Chair Elect; Salivary gland and excocrine secretion GRC, 2011
Chair Elect; Salivary gland and excocrine secretion GRC, 2013
Editorial:
Faculty Member, Faculty of 1000 Biology
Review Editorial Board of Frontiers in Pharmacology of Ion Channel and Channelopathies
Editorial Board Member: Cell Calcium
Editorial Board member: Journal of Biological Chemistry
Member Editorial Board, Journal of Dental Research. 1996-1999
Member Editorial Board, Membrane Biochemistry. 1991-1996
Related Scientific Focus Areas
---
This page was last updated on April 4th, 2019