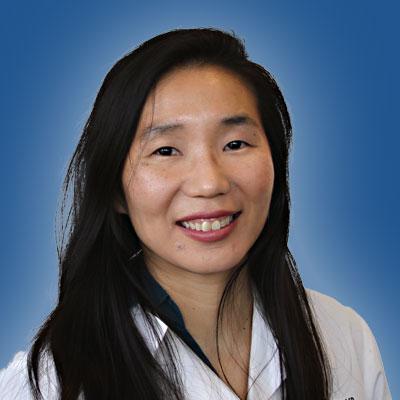 Hanna Kim, M.D., M.S.
Assistant Clinical Investigator
Juvenile Myositis Pathogenesis and Therapeutics Unit
NIAMS
Research Topics
Juvenile myositis (JM) is a rare, complex, multi-system condition in which inflammation of the muscles results in weakness as well as a characteristic skin rash in cases of juvenile dermatomyositis (JDM). The exact cause or pathogenesis of JM is not well understood but it is thought to result from a combination of multiple genetic and environmental risk factors. Treatment is generally empiric with prolonged and high-doses of immunosuppression medications including glucocorticoids, which carry significant adverse effects.
Sixty to seventy percent of patients have a chronic disease course, and some are unable to achieve remission with currently available medications. In the long term, the disease often causes damage such as calcinosis and impaired function. Better markers to help monitor and predict the disease course and guide therapy are needed, as well as more targeted therapy options with better efficacy and fewer side effects.
Our group studies dysregulated gene and protein expression from patients with JM to better understand dysregulated biology and the pathogenesis of the disease. An interferon response signature has been demonstrated in peripheral blood, muscle, and skin in dermatomyositis. To better understand the role of interferon in JDM, we have compared the peripheral interferon signature, or score, in JDM to autoinflammatory Mendelian interferonopathies (PMID 32252809, PMID 29638206). Janus kinase (JAK) inhibitors can target this interferon signaling pathway. Given the interferon signature, which is well described in JDM, and previous use of JAK inhibitors in Mendelian interferonopathies, we studied the use of baricitinib (a JAK inhibitor) in refractory JDM, demonstrating proof of concept in pharmacodynamic studies as well as clinical efficacy (PMID 32843325).
These studies have highlighted how we have looked at particular pathways and utilized Mendelian disease to better understand pathogenesis and guide the selection of targeted therapy.
Research Focus
Our collaborative group studies are focused on better understanding the etiology and mechanisms of disease in juvenile myositis in order to optimize management and treatment. We are focused on:
Elucidating the immunopathogenesis of the disease and potential predictors of treatment response by the discovery of novel biomarkers through transcriptomic, proteomic, and/or immunophenotyping analyses.
Investigating novel treatments in small clinical trials to establish more targeted therapy with the goal of identifying safe treatments with greater efficacy and fewer side effects.
Biography
Hanna Kim, M.S., M.D., is a board-certified pediatric rheumatologist who is focused on exploring pathogenesis and novel treatments in juvenile dermatomyositis. During her rheumatology fellowship, Dr. Kim developed a passion for clinical and translational research while studying interferon-mediated autoinflammatory diseases, novel biomarkers, pharmacokinetics, and pharmacodynamics, and safety and efficacy in a compassionate use study with an investigational drug. She went on to become a Lawrence Shulman Scholar and studied the role of interferon and activity-related biomarkers in myositis, particularly juvenile dermatomyositis. She has also been evaluating Janus kinase inhibition in a compassionate use program for refractory juvenile dermatomyositis.
Dr. Kim was appointed as an Assistant Clinical Investigator in 2020 and is also an attending physician on the NIH Pediatric Rheumatology Consultation Service. She is actively involved in a range of organizations including the American College of Rheumatology (ACR), the Childhood Arthritis Rheumatology Research Alliance, and the International Myositis Assessment and Clinical Studies Group.
She has received numerous local, national, and international awards and honors, including NIAMS Group Merit Award, ACR Distinguished Fellow Award, Rheumatology Research Foundation Pediatric Research Award, Pediatric Rheumatology European Society Young Investigator Travel Award, selection for the ACR-European League Against Rheumatism Early Investigator Exchange Program, and best abstract at the Global Conference on Myositis. Dr. Kim has also given national and international presentations.
Related Scientific Focus Areas
This page was last updated on Saturday, August 26, 2023