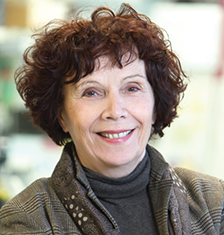 Genoveffa Franchini, M.D.
Senior Investigator
Vaccine Branch
NCI/CCR
Building 41, Room D804 Bethesda, MD 20892-5065
240-760-6605
Research Topics
Human T-cell lymphotropic virus type 1 (HTLV-1) causes cancer and neuropathology whereas human immunodeficiency virus (HIV)causes AIDS. We uncovered the mechanisms used by HTLV-1 to inhibit innate and adaptive host responses and that HTLV-1 replication in vivo depends on infection of monocytes that necessitate cleavage of the viral p12 precursor protein, thus providing a novel viral therapeutic target. We engineered vaccines, together with the private sector to prevent HTLV-1 and HIV infection. One of the HIV vaccines, the ALVAC-HIV/gp120, has been the first to demonstrate limited, but significant protection against HIV acquisition in humans. Our studies in macaques mirror the human results providing the opportunity to identify the immunological effector(s) of protection and improve vaccine efficacy against HIV.
Biography
Dr. Genoveffa Franchini is a hematologist and renowned retrovirologist who has pioneered research on oncogenes and human retroviruses (HTLVs and HIVs). She has made numerous achievements in virology and translational approaches to prevent human diseases caused by retroviruses. Her work has furthered the understanding of HIV and HTLV-1 pathogenesis, leading to the identification and characterization of new viral genes for HIV and HTLV-1 and their functions. Her accomplishments in HIV vaccine development include the pre-clinical that led to the first vaccine trial in 16,000 volunteers in Thailand, that has demonstrated significant, though limited, protection against HIV acquisition. Her basic work in immunological mechanisms of protection furthered the understanding of the efficacy of the currently available smallpox vaccine in primates. She also has pioneered strategies to down-modulate regulators of immune response in HIV-1-infected individuals, using the macaque model of SIV infection.
Related Scientific Focus Areas
---
This page was last updated on May 25th, 2022