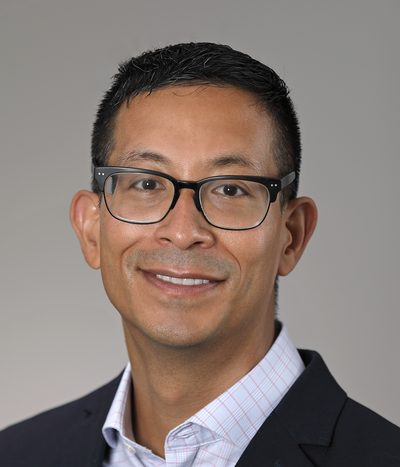 Freddy E. Escorcia, M.D., Ph.D.
Lasker Clinical Research Scholar
Molecular Imaging Branch
NCI/CCR
Building 10 Room 1B55 Bethesda, MD 20892
240-858-3062
Research Topics
Advances in engineering of tumor-specific molecules to guide cytotoxic treatments, such as chemotherapy or radionuclides, have resulted in new classes of cancer drugs which have the potential to kill tumors while mitigating toxicities to normal tissues, moving us closer to truly tumor-targeted, personalized cancer treatment for our patients.  Targeted radionuclide therapy provides an orthogonal mode of cell killing that is distinct from, yet complementary to, existing small molecule and chemotherapy treatments. By harnessing systemic, targeted radionuclides, our group aims to develop new agents to help us better treat and monitor cancer patients. Dr. Escorcia is also a clinically trained radiation oncologist and treats patients with all tumor types amenable to radiation therapy.
Biography
Dr. Escorcia's journey began in a small coastal town on the Atlantic side of Nicaragua, continued through to Toronto, Ontario, then to central Illinois. He earned his undergraduate degrees in bioengineering and chemistry at the University of Illinois at Urbana-Champaign, igniting his interest in science and medicine, and prompting enrollment in the Tri-Institutional M.D./Ph.D. Program of Weill Cornell Medical College, Memorial Sloan Kettering Cancer Center (MSKCC) and Rockefeller University in New York, NY. Dr. Escorcia's thesis work involved engineering tumor-targeted antibodies and polymers to delivery cytotoxic alpha-particle radionuclide payloads. This experience with harnessing radiation for cancer therapy led to Dr. Escorcia's pursuit of a radiation oncology residency at MSKCC and continues to drive his research and clinical interests as an Assistant Clinical Investigator within the Molecular Imaging Branch and the Radiation Oncology Branch at NCI's Center for Cancer Research. Dr. Escorcia enjoys working with and learning from trainees, recently earning a Distinguished Mentor Award. Outside of the lab Dr. Escorcia is enjoys traveling, reading, weight training, and spending time with his family.
Related Scientific Focus Areas
---
This page was last updated on September 1st, 2021