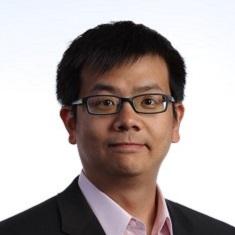 Frank I. Lin, M.D.
Lasker Clinical Research Scholar
Molecular Imaging Branch
NCI/CCR
Building 10, Room 13C442 Bethesda, MD 20892-1088
240-760-6166
Research Topics
The vision of the Targeted Radionuclide Therapy Section is to accelerate the development and clinical translation of radionuclide therapy as a treatment modality for cancer. Dr. Lin is interested in and investigates a number of different radionuclides in both clinical and pre-clinical settings, but is particularly interested in the application of alpha particle and Auger electron-emitting agents. In addition to agent development and research, Dr. Lin is also involved in the promotion and advancement of the field of radionuclide therapy, including educational pursuits such as the training of future medical practitioners of this promising form of therapy.

 
Biography
Originally born in Taiwan, Dr. Lin immigrated with his family to the U.S. at a very young age and grew up in California. Dr. Lin's educational and professional pursuits has since taken him to many different parts of the United States. He completed his undergraduate work in biological sciences at Stanford University and has a Masters degree in medical informatics from the University of Utah. He went to medical school at the Medical College of Wisconsin and did his internal medicine and nuclear medicine residencies at Kaiser Permanente San Francisco and the University of California, Davis, respectively. After re-joining Stanford University for a PET/CT fellowship, Dr. Lin has worked at the NCI for the past 6 years in the Cancer Imaging Program in the Division of Cancer Treatment and Diagnosis. He was selected as a Lasker Clinical Research Scholar in 2016 and made the transition to intramural NCI as head of the newly created Targeted Radionuclide Therapy Section housed within the Molecular Imaging Branch headed by Dr. Peter Choyke.
Related Scientific Focus Areas
---
This page was last updated on September 7th, 2021