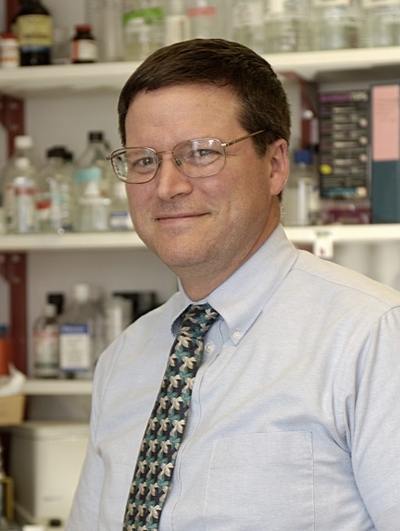 Forbes D. Porter, M.D.,Ph.D.
Senior Investigator
Section on Molecular Dysmorphology
NICHD/DIR
Clinical Director
NICHD/DIR
10-CRC 5-2571
20892
301-435-4432
Research Topics
Cholesterol Metabolism and Genetic Syndromes
Dr. Porter's research group investigates molecular, biochemical, cellular, and developmental processes that underlie genetic syndromes. Specifically, his research has focused on two rare genetic disorders, Smith-Lemli-Opitz syndrome, and Niemann-Pick Disease, type C1. Smith-Lemli-Opitz syndrome (SLOS) is an inborn error of cholesterol synthesis that results in birth defects and cognitive impairment. Niemann-Pick Disease, type C1 (NPC1) is a neurodegenerative, lysosomal storage disease due to impaired intracellular cholesterol transport. The goal of his sections research efforts is to combine both basic science and clinical expertise to develop and test novel therapeutic interventions for SLOS and NPC1. Laboratory work is focused on development and characterization of mouse models to gain insight into pathological processes underlying these genetic disorders utilizing molecular, biochemical and proteomic techniques. This basic science work complements clinical work by this section which includes longitudinal natural history studies of both SLOS and NPC1. The combination of both basic and clinical science efforts in this research group truly allows for both an integrated bench-to-bedside and bedside-to-bench approach toward understanding the pathology of these disorders and developing therapeutic interventions.
Biography
Dr. Forbes D. Porter received his M.D. and Ph.D. degrees from Washington University in St. Louis and subsequently trained in Pediatrics and Genetics at St. Louis Children's Hospital. He is board certified in Pediatrics and Clinical Genetics. Dr. Porter came to the NIH in 1993 as a postdoctoral fellow in Dr. Heiner Westphal's laboratory and subsequently formed his own research laboratory in the Heritable Disorders Branch of NICHD. Dr. Porter's research at the NIH has been focused on understanding pathophysiological processes underlying human genetic disorders in order to develop and test therapeutic interventions.
Related Scientific Focus Areas
---
This page was last updated on August 4th, 2017