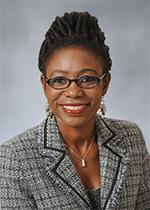 Faustine Williams, Ph.D., M.P.H., M.S.
Stadtman Investigator
Health Disparities and Geospatial Transdisciplinary Research Lab
NIMHD
Research Topics
Social determinants of minority health and health disparities influences are particularly challenging because they are often intertwined with much larger organizational, social, environmental, and cultural problems. The complexity of these interactions call for application of dynamic approaches including the voices of stakeholders to elucidate understanding on these issues. Secondly, adequate understanding will facilitate the design and implementation of strategies or interventions or programs targeted to meet the needs of each population and/or community taking into account their socio-cultural and behavioral values, beliefs and needs. My research focuses on the complex interactions of factors contributing to minority health, health disparities and health inequalities in addition to developing and implementing ways to improve health, behaviors and outcomes. Dr. Williams uses mixed methods including community-based system dynamics, community-based participatory research, geographic information systems, storytelling and qualitative to explore causal mechanisms of health disparities and development of culturally appropriate interventions. Her research falls under these domains:
Cancer Control and Prevention
Immigrant Health
Health Disparities
Biography
Faustine Williams, PhD, MPH, is an Earl Stadtman tenure-track investigator at the National Institute on Minority Health and Health Disparities (NIMHD). She received her bachelor's degree from the University of Ghana, Legon, and masters' and doctoral degrees from the University of Missouri, Columbia. Prior to joining the NIMHD in 2018, she was an Assistant Professor at East Tennessee State University in the Department of Health Services Management and Policy. In 2017, she was selected and participated in the NIH Future Research Leaders Conference. She was later recruited as Stadtman Investigator and into the 2018 NIH Distinguished Scholars Program. She completed her postdoctoral training in Transdisciplinary Research in Energetics and Cancer at Washington University School of Medicine in St. Louis in 2015 and later led the Breast Cancer Disparities Working Group at the Brown School Social System and Design Lab as a Staff Scientist. She is a trained transdisciplinary researcher with a focus on cancer control and minority health and health disparities.
Related Scientific Focus Areas
This page was last updated on Tuesday, November 15, 2022