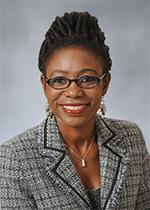 Faustine Williams, Ph.D., M.P.H., M.S.
Stadtman Investigator
Immigrant Health and Health Disparities (IHD) Research Laboratory
NIMHD
Research Topics
The processes of immigration and acculturation can be highly disruptive and translate to a higher risk for stress-related disease and suboptimal lifestyles. Given the rapidly growing United States immigrant population and the known health risks associated with acculturation, it is critical to examine the complex relationships that can compromise immigrants' health. Nevertheless, studying acculturation and social determinants of immigrants health are particularly challenging due to the complex interactions of factors and their fluid nature. These factors, which are sociocultural, environmental, economic, biological, and genetic, are often interconnected, requiring interdisciplinary and novel approaches to disentangle effects. Dr. Williams applies transdisciplinary measures such as community-based system dynamics to understand the dynamic complexity underlying acculturative stress and mental well-being. The goals of her research are to (a) identify the individual, contextual, and structural factors influencing the mental health and mental well-being of immigrants, (b) disentangle the interplay of multiple factors and mechanisms that contribute to mental health disparities and support protective cultural practices among immigrant populations, and (c) develop and implement culturally appropriate intervention(s) to improve mental health outcomes of immigrant populations in the United States. Dr. Williams' research falls under these domains:
Immigrant Health
Mental Health and Mental Well-Being
Health Disparities
Biography
Faustine Williams, Ph.D., M.P.H, M.S. is an Earl Stadtman tenure-track investigator at the National Institute on Minority Health and Health Disparities (NIMHD). She received her bachelor's degree from the University of Ghana, Legon, and master's and doctoral degrees from the University of Missouri, Columbia. Prior to joining the NIMHD in 2018, she was an Assistant Professor at East Tennessee State University in the Department of Health Services Management and Policy. In 2017, she was selected and participated in the NIH Future Research Leaders Conference. She was later recruited as Stadtman Investigator and into the 2018 NIH Distinguished Scholars Program. She completed her postdoctoral training in Transdisciplinary Research in Energetics and Cancer at Washington University School of Medicine in St. Louis, and later served as a Staff Scientist and led the Breast Cancer Disparities Working Group at the Brown School Social System and Design Lab. Dr. Williams is passionate about improving the mental health and well-being of immigrants in the United States, utilizing her diverse range of transdisciplinary expertise.
Related Scientific Focus Areas
This page was last updated on Wednesday, August 23, 2023