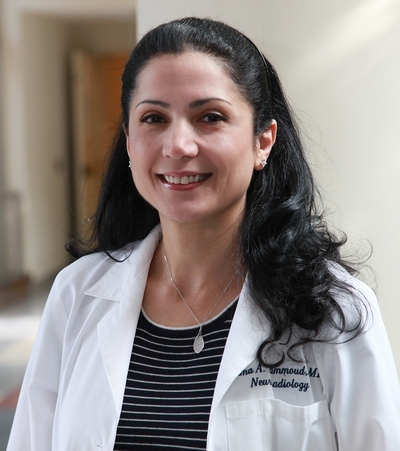 Dima A. Hammoud, M.D.
Senior Investigator
Center for Infectious Disease Imaging (CIDI)
NIH Clinical Center
Building 10, Room 1C368
10 Center Drive
Bethesda, MD 20892
301-402-3041
Research Topics
Dr. Hammoud's research interests include the development of preclinical, translational and clinical molecular imaging applications to improve the understanding of the pathophysiology of infection, and to provide reliable imaging biomarkers of infectious diseases. Research in her laboratory focuses on further understanding the pathophysiology of cognitive dysfunction in the setting of HIV infection using non-invasive molecular imaging techniques, mainly positron emission tomography (PET). Current projects include PET imaging of glucose metabolism, neuro-inflammation and neurotransmitter systems in SIV-infected monkeys and HIV infected patients. Another interest of the Hammoud lab is the development and validation of fungal imaging ligands in animal models and patients.
Biography
Dr. Hammoud attended college at the American University of Beirut in Lebanon, where she earned a bachelor's degree in biology and an M.D. degree. After completing a residency in diagnostic radiology at the American University of Beirut-Medical Center, she joined the division of neuroradiology at the Johns Hopkins Hospital as a fellow. After completion of her fellowships, she joined the neuroradiology faculty at Johns Hopkins as assistant professor. In 2006, she joined the neuroradiology faculty at NIH. She is currently a tenure track investigator in the Center for Infectious Disease Imaging (CIDI), a joint initiative between Radiology and Imaging Sciences at the NIH Clinical Center and the National Institute of Allergy and Infectious Diseases (NIAID). Dr Hammoud is board-certified in diagnostic imaging by the American Board of Radiology, and has completed fellowships in neuroradiology and PET imaging. She is a member of the Society of Nuclear Medicine and Molecular Imaging (SNMMI) and Radiological Society of North America (RSNA). She currently serves as a member of the Molecular Imaging Abstract Review Subcommittee of the Scientific Program Committee (SPC) and Education Exhibits Committee (EEC) at RSNA and has previously served as a Board member of the Center for Molecular Imaging Innovation and Translation (CMIIT) Program Task Force at SNMMI.
Related Scientific Focus Areas

---
This page was last updated on March 17th, 2020