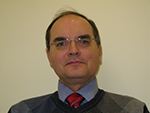 David F. Stroncek, M.D.
Senior Clinician
Transfusion Medicine Department
NIH Clinical Center
Building 10, Room 1C711
10 Center Drive
Bethesda, MD 20892
301-496-9702
Research Topics
Dr. Stroncek helped establish the National Marrow Donor Program (NMDP) and was the organization's first medical director. During his four years as medical director of the NMDP, the program coordinated their first unrelated donor transplant and subsequently increased the number of marrow donations by unrelated individuals. He has served on several NMDP committees as president of the council of the NMDP, and as a member of the NMDP board of directors. In his role as chief of the Laboratory Service Section of the NIH Clinical Center Department of Transfusion Medicine (DTM), he directed the HLA and Transfusion Services Laboratories. During his tenure, the HLA laboratory moved from a serological laboratory to a molecular testing laboratory that provided sequence-specific probe, high resolution sequence-specific primer, and sequence-based HLA genotyping. Under Dr. Stroncek's direction, the Transfusion Service Laboratory began genotyping RBC antigens and discovered that the low pH and high osmolarity of citrate anticoagulant in blood components caused RBCs from donors with sickle cell trait to occlude leukocyte reduction filters. Dr. Stroncek became chief of the Cell Processing Section in 2007. Under his direction the Section has collaborated with Institute Investigators to develop and implement methods to produce clinical Natural Killer cell, culture/expanded T cells, genetically engineered T cells and dendritic cell products. The Section has also developed a new program to produce Bone Marrow Stromal Cells. He is also investigating the use of high-throughput technology to improve potency and stability testing of cellular therapies and he is working to develop to methods that are in compliance with good manufacturing practices (GMP) to produce novel cellular and gene therapies. He has published more than 230 articles in scientific journals, has written several book chapters, and has served on the editorial boards of several scientific journals.
Biography
Dr. Stroncek completed his undergraduate and medical school degrees, an internal medicine residency, and a hematology/oncology fellowship at the University of Minnesota. He then joined the faculty of the University of Minnesota Medical School, Laboratory Medicine and Pathology Department, and later became medical director of the blood bank. He came to the NIH Clinical Center Department of Transfusion Medicine in 1996 as Chief of the Laboratory Service Section.
Related Scientific Focus Areas
---
This page was last updated on August 17th, 2021