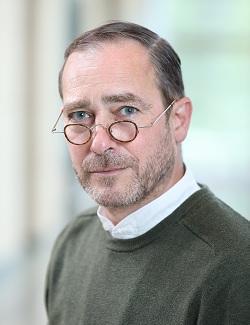 Daniel Douek, M.D., Ph.D.
Senior Investigator
Human Immunology Section
NIAID/VRC
Building 40, Room 3509
40 Convent Drive
Bethesda, MD 20892
301-594-8484
Research Topics
The Human Immunology Section (HIS) studies the processes that determine the course of human diseases in which the immune system, particularly its T-cell arm, plays a central role in their pathogenesis and outcome. Furthermore, our aim is to use the knowledge gained through these studies to initiate clinical studies of new therapeutic and vaccine approaches. Our overriding philosophy is to address questions of human disease directly in humans, with as little in vitro manipulation as possible, using state-of-the art technologies to measure a multitude of different parameters.
Our studies of HIV explore the mechanisms by which CD4 T cells are depleted and disease progression is maintained, appreciating that there are likely to be many such mechanisms that operate with varying predominance at different stages of infection, from the acute phase through to AIDS. A major aspect of these studies is to examine the roles of target cell type and availability as the reservoir for HIV, chronic immune activation, and lymphoid tissue architectural integrity. Our findings have led to a new understanding of the timing, extent, and anatomical distribution of CD4 T-cell infection and depletion in HIV infection, which we believe will result in novel therapeutic and vaccine approaches for treatment of exposed and infected individuals, leading towards an eventual cure or prevention. Furthermore, we are pursuing studies of therapeutic agents that we hope will improve clinical outcome once HIV-infected individuals are treated with antiretroviral drugs.
Another aspect of our work in HIV infection involves analysis of the clonal composition of CD8 T cells that respond to HIV. Escape from adaptive T-cell immunity through viral epitope mutation is considered a major obstacle to the development of vaccines that aim to elicit cellular immunity. We are thus investigating the molecular determinants of this phenomenon at the level of the T-cell receptor-epitope contact interface and defining structural motifs that govern the pace and pattern of epitope escape. The practical consequences of our findings suggest that vaccine strategies should elicit responding T cells that are qualitatively superior, in terms of clonotypic composition, to those elicited in natural infection. To pursue these studies, we have pioneered methods for next-generation sequencing of both TCR and BCR immune repertoires.
We also have an interest in hematological malignancies, such as chronic myeloid leukemia, that we pursue in collaboration with other investigators at the National Institutes of Health. Our studies aim to characterize the origin, activity, and functional properties of leukemia antigen-specific T-cell clones and GVH-associated T-cell clones in transplant recipients.
For more information on research conducted by Dr. Douek, visit the Genome Analysis Core.​
Biography
Dr. Douek studied medicine at the Universities of Oxford and London, receiving academic scholarships from both institutions. He then practiced internal medicine and became a Member of the Royal College of Physicians (London) in 1993. He was awarded a Wellcome Trust Clinical Graduate Training Fellowship to pursue a Ph.D. in immunology at the University of London, which he earned in 1997. He completed his postdoctoral work at the Rockefeller University and the University of Texas Southwestern Medical Center, Dallas, where he was named assistant professor in infectious diseases (2000). While a postdoctoral fellow with Dr. Richard Koup, he developed the "TREC assay" to measure thymic output in humans. Dr. Douek was appointed to a tenure-track position in the Vaccine Research Center (VRC) Laboratory of Immunology in November 2000. Dr. Douek brought impressive academic credentials, training, and experience to the VRC and is internationally recognized in the fields of basic immunology, HIV, and transplantation biology. He was converted to a tenured senior investigator position in February 2007, the year in which he was presented with the World AIDS Day Award. He serves as chief of the Human Immunology Section at the VRC.
Related Scientific Focus Areas
---
This page was last updated on August 25th, 2021