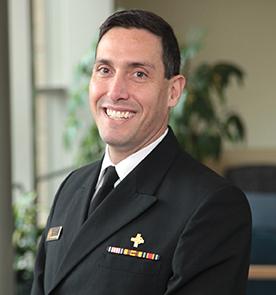 Daniel S. Chertow, M.D., M.P.H.
Senior Investigator
Emerging Pathogens Section
NIH Clinical Center
Research Topics
Influenza pathogenesis and treatment are research interests of Dr. Chertow. Recent investigations have focused on the study of influenza and bacterial co-pathogenesis in a mouse model and characterization of the clinical, microbiologic, and molecular virology features of fatal 1918 influenza and pneumonia cases.
Biography
Dr. Chertow is a Tenure-Track Investigator in the Critical Care Medicine Department at the National Institutes of Health (NIH) Clinical Center and in the Laboratory of Immunoregulation, National Institute of Allergy and Infectious Diseases. He is a Fellow in the American College of Critical Care Medicine, and a member of the Infectious Diseases Society of America and the American Public Health Association. He serves as a senior officer in the United States Public Health Service (USPHS).
Dr. Chertow received his undergraduate degree in Sociology from Boston College, his degree in Medicine from Northwestern University, and his degree in Public Health from the University of California, Berkeley. He completed residency training in Internal Medicine at the University of California, San Diego and training as an Epidemic Intelligence Service Officer at the United States Centers for Disease Control and Prevention. Fellowship training in Critical Care Medicine was completed at NIH and Infectious Diseases at Johns Hopkins University.
Dr. Chertow's translational research program employs advanced animal models and detailed natural history studies in humans to improve understanding of the pathophysiology and molecular pathogenesis of severe emerging viral infections including Influenza A, Ebola, and Zika viruses to guide improved clinical management of these infections.
Honors and Awards
USPHS Meritorious Service Medal, 2017; USPHS Presidential Unit Citation, 2016; Lasker-Bloomberg Public Service Award, 2015; NIH Director's Award, 2015; NIH Clinical Center Director's Award, 2014; USPHS Unit Commendations, 2012, 2010, and 2005; USPHS Citation, 2011
Related Scientific Focus Areas
This page was last updated on Saturday, September 2, 2023