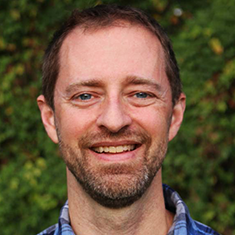 Christopher B. Buck, Ph.D.
Senior Investigator
Laboratory of Cellular Oncology
NCI/CCR
Building 37, Room 4118
Bethesda, MD 20892-4263
240-760-6892
Research Topics
Our group studies polyomaviruses. A great majority of healthy adults chronically shed polyomavirus virions in their urine and from the surface of their skin. Although these lifelong infections generally aren't known to cause symptoms in healthy individuals, under conditions of immune impairment polyomaviruses  can cause disease. For example, BK polyomavirus (BKV) causes kidney and bladder damage in organ transplant patients, while its close relative JCV causes a lethal brain disease in patients on immunosuppressive therapies and in individuals suffering from HIV/AIDS. At least one skin-dwelling polyomavirus, Merkel cell polyomavirus, causes a rare but highly lethal form of skin cancer called Merkel cell carcinoma.
Virus discovery efforts led by our lab have uncovered the existence of several human polyomaviruses (HPyV6, 7, and 10) that are commonly shed from the surface of the skin. The organizing focus of work in the lab is the functional biology of viral capsids. By applying basic-science knowledge of capsid biology, our group has pioneered the development of polyomavirus-based gene transfer vectors. These vectors (also known as pseudoviruses) deliver encapsidated reporter plasmids to the cell nucleus via pathways that resemble the infectious entry of authentic virions. In addition to their utility for studying the mechanics of infectious entry, these tools have a variety of other applications. For example, we use pseudoviruses to perform high-throughput analyses of neutralizing antibody responses. A primary goal of our current work is to understand how polyomaviruses evolve to evade antibody-mediated neutralization.  This work has opened the door to clinical development of virus-like particle vaccines against BKV and JCV.
Biography
Dr. Buck received a bachelor's degree in Molecular Cellular and Developmental Biology from the University of Colorado at Boulder. He then returned to his home state, Maryland, to earn a Ph.D. from the Johns Hopkins School of Medicine.  Dr. Buck's graduate research in Dr. Robert Siliciano's lab focused on the translation and immunogenicity of the HIV-1 capsid protein Gag. For his graduate work, Dr. Buck received the Alicia Showalter Reynolds Award. In 2001, Dr. Buck began post-doctoral training in the Lab of Cellular Oncology, where he developed systems for producing human papillomavirus (HPV)-based gene transfer vectors (pseudoviruses). His work using HPV vectors ranged from basic studies of HPV virion structure and morphogenesis to translational research identifying candidate topical microbicides for blocking HPV transmission. For his work in these areas, Dr. Buck, and his mentors, Drs. John Schiller and Doug Lowy, shared the 2006 Norman P. Salzman Award. In 2007, Dr. Buck joined the faculty of the NCI's Center for Cancer Research as an Investigator. In 2013, he shared a second Salzman Award in recognition of his mentoring of Dr. Rachel Schowalter.  Dr. Buck was awarded tenure in 2014.
Related Scientific Focus Areas
---
This page was last updated on February 4th, 2019