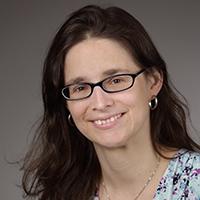 Christine Campo Alewine, M.D., Ph.D.
Lasker Clinical Research Scholar
Laboratory of Molecular Biology
NCI/CCR
Building 37, Room 5116B Bethesda, MD 20892
240-760-6146
Research Topics
Pancreatic cancer is a devastating disease that kills more than 40,000 Americans each year. Less than 10% of patients survive five years or more after diagnosis because the disease metastasizes very early in its development and is resistant to most current treatments. More effective systemic therapies are needed for our patients.
Recombinant immunotoxins are antibody-based anti-cancer therapeutics that deliver a very potent bacterial toxin specifically to cancer cells. The bacterial toxin halts protein synthesis in the cancer cell, a lethal insult to many cell types. LMB-100 (previously called RG7787) is a recombinant immunotoxin that we are testing in the clinic for patients with pancreatic cancer. LMB-100 targets mesothelin, a protein that is expressed on the surface of almost all pancreatic cancers, but has very limited expression in normal tissues. The immunotoxin binds to mesothelin on the cancer cell surface, leading to cancer cell internalization of the toxin and tumor cell death.
My laboratory research focuses on:
1.    Identifying effective combination therapies that can enhance the activity of immunotoxins by increasing delivery and efficacy
2.    Evaluating efficacy of new immunotoxins against pancreatic cancer models in vivo and in vitro
3.    Examining the biology of mesothelin.
Biography
Dr. Alewine received her M.D. and Ph.D. from the University of Maryland School of Medicine. She completed internal medicine residency in the Osler Medical Training Program at Johns Hopkins Hospital followed by clinical fellowship in Medical Oncology at the National Cancer Institute.  She joined the Laboratory of Molecular Biology as an Assistant Clinical Investigator through the support of the Clinical Investigator Development program in 2014 and became a tenure-track investigator through the NIH Lasker Scholar program in 2016.
Related Scientific Focus Areas
---
This page was last updated on April 19th, 2021